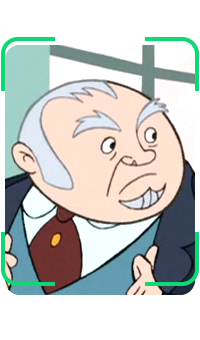 "Pop Pop" Porter
| | |
| --- | --- |
| Full Name: | Unknown |
| Alias(es): | No Known Aliases |
| Gender: | Male |
| Age: | Unknown |
| Build: | Stocky |
| Hair: | Silver |
| Eyes: | Unknown |
| Skin: | Unknown |
| Hometown: | Unknown |


Professional Info
Profession(s):
 
Frozen Snack Maker
Affiliation(s):
 
No Known Affiliations
Relationships
Relative(s):
 
No Known Relatives
Friend(s):
 
Martin Smarty
Señor Senior, Senior
Love Interest(s):
 
No Known Love Interests
Pet(s):
 
No Known Pets
Nemesis:
 
No Known Nemesis
Behind the Scenes
First Appearance:
 
"Animal Attraction"
Voiced by:
 
-
"Pop Pop" Porter is a famous frozen snack food maker and one of the five richest people in the world. He is also a repeat client of Team Possible.[1]
Physicality
Appearance
Personality
While generally friendly, "Pop Pop" Porter's mind was always on his business. He allowed Ron and Rufus to eat a surplus of mini corn dogs in order to keep them from being wasted while his cryovater was missing[2], and overlooked the theft of his favorite shrimp-shaped blimp because of the publicity it earned him.[3]
Abilities
Biography
According to Ron, "Pop Pop" Porter revolutionized the heat-and-eat snack industry. He first hired Team Possible to track down the thieves who stole the cryovater used in his flash-freezing process. Wade was able to connect a cologne scent left at the scene to Señor Senior, Junior.[2]
Team Possible was hired a second time to locate the stolen "Shrimp Force One", "Pop Pop"'s favorite blimp. Wade located the blimp in New York, where Adrena Lynn used it to stage a fake blind bungee jump. "Pop Pop" decided not to press charges because of all the publicity he got from the incident.[3]
As one of the five richest people in the world, "Pop Pop" was later a regular guest at Señor Senior, Senior's poker games. Shego and Junior staged a kidnapping around the game, claiming the guests were being held hostage, but Team Possible intervened.[1]
Relationships
Family
Friends
Love Interest
Enemies
Paraphernalia
Clothes
"Pop Pop" Porter wore a dark blue suit jacket and pants, with a blue vest, white shirt, and a red tie.
Equipment
Eight or more food-themed blimps, including "Shrimp Force One" and a corn dog
Quotes
Gallery
Trivia
Even though Señor Senior, Senior stole "Pop Pop"'s cryovater and endangered his mini corn dog factory in the process, no explanation was offered as to why Pop Pop later appeared among Senior's poker buddies. Presumably "Pop Pop" either forgave the offense or as with the theft of his shrimp blimp, found a benefit that outweighed the initial damages.
While no relationship was established, Pop Pop shares the same surname as Vivian Porter
Alternate Versions
Behind the Scenes
Voice Actor/Actress
Episode Appearances
Season 4
Production
Number
US Broadcast
Number
Episode
404
69
The Big Job
References
↑ a b The Big Job
↑ a b All the News