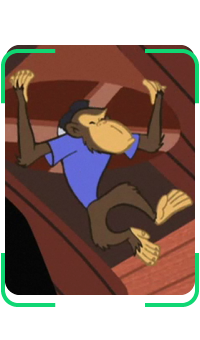 Bobo
| | |
| --- | --- |
| Full Name: | Bobo the Chimp |
| Alias(es): | No Known Aliases |
| Gender: | Male |
| Age: | Unknown |
| Build: | short and ape-like |
| Hair: | brown |
| Eyes: | black and beady |
| Skin: | beige with brown fur |
| Hometown: | Camp Wannaweep |


Professional Info
Profession(s):
 
Camp Mascot
Affiliation(s):
 
No Known Affiliations
Relationships
Relative(s):
 
No Known Relatives
Friend(s):
 
No Known Friends
Love Interest(s):
 
No Known Love Interests
Pet(s):
 
No Known Pets
Nemesis:
 
Ron Stoppable
Behind the Scenes
First Appearance:
 
"Monkey Fist Strikes"
Voiced by:
 
-
Bobo the Chimpanzee was the animal mascot for Camp Wannaweep, a run-down summer camp located in a forest region somewhere outside of Middleton.
History
Several years prior to Kim and Ron's sophomore year Bobo shared cabin 13 with a young Ron Stoppable for a summer at Camp Wannaweep. During this time he ran rampage through the cabin, destroying its furnishings and menacing Ron to the extent that Ron developed a pathological fear of Monkeys for years afterwards.
Bobo is presumed to have left Wannaweep after it closed down, as he is not present during the events of either of Ron's returns to Camp Wannaweep[1][2].
His current whereabouts are unknown.
Production vs. Air Date
Based on production order, Bobo was initially scheduled to appear as a flashback character in the 3rd episode of Kim Possible ("Monkey Fist Strikes"), where he was to be introduced, and used to explain Ron's fear of Monkeys as a sub-plot relating to the villain Monkey Fist. He was then scheduled to reprise his role in episode 11, Sink or Swim, where his connection to Ron was to be reinforced, and he was to be used to as part of the explanation of why Ron feared returning to Camp Wannaweep.
However, due to differences between the production order and the order in which episodes were aired, Bobo was first introduced to audiences (air date) as a nameless character in episode 2. His connection to Ron was stated, but his ongoing importance to the franchise was not noted as Ron's fear of Monkeys had not yet been introduced. He then returned in episode 13, where he was named. His role as the source of Ron's recurring fear of monkeys was also introduced (along with the fear itself).
Trivia
Chronologically, Bobo is first introduced in Ron's flashbacks when the Middleton High School cheerleaders and Mr. Barkin are stranded overnight at an abandoned Camp Wannaweep, but he is not named or linked to Ron's fear of Monkeys[1].
In production order Bobo is introduced and named initially when Kim and Ron meet Monty Fiske, prior to his transformation into Monkey Fist [3].
Bobo is mentioned again when Ron and Kim meet Frederick at the annual Rocket Boosters event[4] and later on when they find themselves at Camp Gottagrin[2].
Although Bobo is usually referred to as being a monkey, his is actually a chimpanzee as he has no tale, making him an ape, not a monkey. Both Kim and Monty Fiske comment on him being a chimp[3].
Bobo is never seen without his Camp Wannaweep Raccoon Skin hat.
Ron is the only permanent cast member ever to have seen Bobo.
Episode Appearances and Mentions
References
Community content is available under
CC-BY-SA
unless otherwise noted.