Chris Bailey served as a Director, Executive Producer and Dialogue Director during the first season of Kim Possible. He directed all 21 episodes of the first season.
Show cameos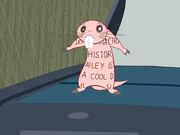 Chris makes an appearance as "Reggie", the Knight of Rodeghan in "Royal Pain".
His last name, Bailey, is referenced in "Tick-Tick-Tick".
A character named "Mr. Bailey" also appears in the Extended Edition of the movie So the Drama.
External links