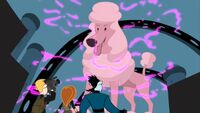 Commodore Puddles
Full Name:
Unknown
Alias(es):
No Known Aliases
Gender:
Male
Age:
Unknown
Build:
Unknown
Hair:
White (season 1)
Pink (season 2)
Eyes:
Black
Skin:
Gray (season 1)
Pink (season 2)
Hometown:
Unknown


Professional Info
Profession(s):
 
Unknown
Affiliation(s):
 
No Known Affiliations
Relationships
Relative(s):
 
No Known Relatives
Friend(s):
 
No Known Friends
Love Interest(s):
 
No Known Love Interests
Pet(s):
 
No Known Pets
Nemesis:
 
No Known Nemesis
Behind the Scenes
First Appearance:
 
"Kimitation Nation"
Voiced by:
 
-
Commodore Puddles is the pet poodle of Dr. Drakken.[1] Oddly enough, he only appeared twice, and had a drastically different coloring and attitude in each appearance.
Physicality
Appearance
Curiously, during his first appearance, the fur and skin of Commodore Puddles were white and gray[1], but during his next appearance, both were shades of pink.[2]
Personality
Commodore Puddles was much more vicious and aggressive in his first appearance, where he terrified Dr. Drakken's henchmen, and Drakken himself prized the dog for his killer instinct.[1]
Commodore Puddles was later far more obedient and less aggressive toward everyone overall. His once-famed killer instinct was notably absent.[2]
Abilities
Initially, Commodore Puddles seemed to trained to attack and/or restrain Kim Possible on sight.[1]
Commodore Puddles was later capable of several expected dog commands, such as rolling over, retrieving, burying and digging up objects, and attacking. He also knew less conventional tricks, including a fake-out shove.[2]
Biography
Relationships
Family
Friends
Dr. Drakken
Commodore Puddles was loyal only to Dr. Drakken, and typically obeyed his commands. While Dr. Drakken did seem to like him in return, he sometimes got so caught up in his work that he would neglect Commodore Puddles, at least until Shego reminded him that the dog was his responsibility and not hers.[2]
Love Interest
Enemies
Team Possible
Commodore Puddles initially seemed to hate Kim Possible. This was not the case later on.
Paraphernalia
Clothes
Equipment
Quotes
Gallery
Trivia
Alternate Versions
Behind the Scenes
Voice Actor/Actress
Episode Appearances
References
↑ a b c d Kimitation Nation
Community content is available under
CC-BY-SA
unless otherwise noted.