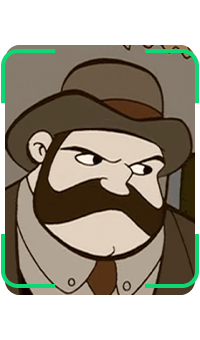 Constable Barkin
| | |
| --- | --- |
| Full Name: | Unknown |
| Alias(es): | No Known Aliases |
| Gender: | Male |
| Age: | Unknown |
| Build: | tall and muscular |
| Hair: | Brown |
| Eyes: | Black |
| Skin: | fair |
| Hometown: | Middleton |


Professional Info
Profession(s):
 
Chief Of Police
Affiliation(s):
 
Middleton Police Department
Relationships
Relative(s):
 
Franklin Barkin (Grandson)
Steve Barkin (Great Grandson)
Friend(s):
 
No Known Friends
Love Interest(s):
 
No Known Love Interests
Pet(s):
 
No Known Pets
Nemesis:
 
No Known Nemesis
Behind the Scenes
First Appearance:
 
"Rewriting History"
Voiced by:
 
Patrick Warburton
Constable Barkin is the past Police Chief of Middleton.
He was Jon Stoppable's boss and had his own theory, which proved that Mim Possible was guilty of stealing an invention.
It is unclear in the episode Rewriting History exactly when the dream sequence began, thus it is possible that Constable Barkin only ever existed in Kim and Ron's dream. However, given that Jon Stoppable later appeared on a float it is likely that he did exist.
Appearance
He appears very similar to his grandson Steve Barkin, who are both tall and muscular. Constable Barkin has short brown hair and a brown "Franz Josef" style beard.
Personality
Like his grandson, he appears to be very strict and no-nonsense.
Relationships
Family
Very little is known about Constable Barkin's family other than his grandson and great grandson.
Son
Main article: Franklin Barkin
Franklin Barkin is Constable Barkin's grandson.
Grandson
Main article: Steven Barkin
Steve Barkin is Constable Barkin's great grandson.
Behind the Scenes
Voiced By
Constable Barkin is voiced by Patrick Warburton.
Episode Appearances
References