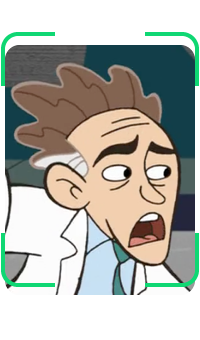 Dr. Fen
| | |
| --- | --- |
| Full Name: | Unknown |
| Alias(es): | No Known Aliases |
| Gender: | Male |
| Age: | Unknown |
| Build: | Short |
| Hair: | Brown |
| Eyes: | Black |
| Skin: | Light Tan |
| Hometown: | Middleton |


Professional Info
Profession(s):
 
Robotics Scientist
Affiliation(s):
 
Middleton Space Center
Relationships
Relative(s):
 
No Known Relatives
Friend(s):
 
No Known Friends
Love Interest(s):
 
No Known Love Interests
Pet(s):
 
No Known Pets
Nemesis:
 
No Known Nemesis
Behind the Scenes
First Appearance:
 
"Grudge Match"
Voiced by:
 
Tom Kenny
Dr. Fen is a robotics scientist who later turn out to be a fraud who stole from his former assistant Vivian Porter.
Physicality
Appearance
Personality
Dr. Fen at first appeared to be an amiable and polite man who often got the into trouble with the machines he worked on. But when his deception was revealed, Fen showed himself to be a conniving and ruthless thief as he attempted to destroy Dr. Vivian Porter's creations to secure his freedom.
Abilities
Dr Fen was, or rather appeared to be, a robotics expert. However he was not a very good one which was apparently obvious since Dr Possible questioned how such a clueless man could have been an authority on robots to begin with. But despite his apparent lack of intelligence, Fen was at least cunning enough to trick Kim and Ron into stealing for him and fool the Middleton Space Center into believing that he was robotics expert.
Biography
Dr. Fen stole credit for Dr. Vivian Porter's artificially intelligent robot[1].
Relationships
Family
Friends
Love Interest
Enemies
Vivian Porter hated Dr. Fen for stealing credit for her work. Something which he refused to give her as it would deem him as a terrible scientist.
He likely hates Kim Possible and Ron Stoppable as well, for revealing him as a thief and liar.
Paraphernalia
Clothes
Equipment
Quotes
Gallery
Trivia
Alternate Versions
Behind the Scenes
Voice Actor/Actress
Episode Appearances
Season X
Production
Number
US Broadcast
Number
Episode
XXX
X
XXXX
References