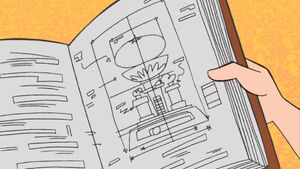 Electrostatic Illuminator
| | |
| --- | --- |
| Owner/User(s): | Professor Demens (Inventor) |
| First Appearance: | "Rewriting History" |


The Electrostatic Illuminator was supposedly the invention of Professor Demens. It is capable of absorbing power from the air and storing it for a specified length of time. However, as it was only known from a dream, it is debatable if it was real or not.[1]
Abilities
The Electrostatic Illuminator absorbs its power, by pulling a lever on the console and setting a timer to allow the white orb on the top to receive its power from the air and store it for the amount of time set on the device.[1]
Owners/Users
Events
Gallery
Trivia
Behind the Scenes
Episode Appearances
References
Community content is available under
CC-BY-SA
unless otherwise noted.