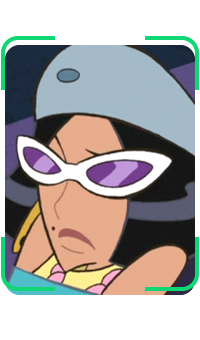 Espadrille
| | |
| --- | --- |
| Full Name: | Unknown |
| Alias(es): | No Known Aliases |
| Gender: | Female |
| Age: | Unknown |
| Build: | Average height and thin |
| Hair: | Black |
| Eyes: | Unknown |
| Skin: | Lightly Tanned |
| Hometown: | Unknown |


Professional Info
Profession(s):
 
Fashion Designer
Affiliation(s):
 
The Fashionistas
Relationships
Relative(s):
 
No Known Relatives
Friend(s):
 
No Known Friends
Love Interest(s):
 
No Known Love Interests
Pet(s):
 
No Known Pets
Nemesis:
 
Kim Possible
Behind the Scenes
First Appearance:
 
"Fashion Victim"
Voiced by:
 
Tara Strong
Espadrille is a member of The Fashionistas gang trio[1].
Appearance
Short, glossy black hair. Tanned skin. A pointed face with a beauty spot and always seen sporting sunglasses.
Background History
Espadrille is first introduced when The Fashionistas hire fellow fashion lover Camille Leon to steal Club Banana's newest designs. Camille, however, also takes the opportunity to get her personal revenge on Kim in the process, which turns out to be their undoing when Kim turns the tables by posing as Camille and infiltrating their organization.
Later Kim and Ron visit the villainous trio in prison in hopes of convincing them to design Kim's new mission outfit. They design the new clothes for her, but refuse to give up the outfit when Kim's turns down a trade: the design for their freedom. Although they refuse to give Kim the design, Rufus remembers it well enough to get it down on paper for Monique to study and create[2].
Personality
Espadrille's loves of purses [Work in progress]
Gallery
Behind the Scenes
Voice Actress
Espadrille is voiced by Tara Strong.
References