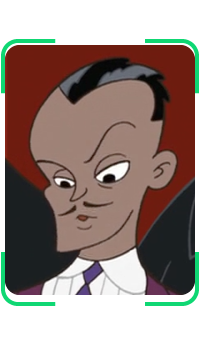 Falsetto Jones
| | |
| --- | --- |
| Full Name: | Unknown |
| Alias(es): | No Known Aliases |
| Gender: | Male |
| Age: | Unknown |
| Build: | Thin and weedy |
| Hair: | Black |
| Eyes: | Black |
| Skin: | Light Brown |
| Hometown: | Unknown |


Professional Info
Profession(s):
 
Thief
Affiliation(s):
 
No Known Affiliations
Relationships
Relative(s):
 
No Known Relatives
Friend(s):
 
No Known Friends
Love Interest(s):
 
No Known Love Interests
Pet(s):
 
Lithuanian Wolfhounds
Nemesis:
 
Team Possible
Behind the Scenes
First Appearance:
 
"Rufus in Show"
Voiced by:
 
Phil Morris
Falsetto Jones was a thief whom Kim, Ron, and Rufus went undercover to stop.
Appearance
Personality
He was also the only villain who, while like so many other villains, did use a deathtrap to try to kill Ron and Kim, was determined to stay and watch, unlike the other villains who will prefer to leave while a death trap is in progress.
Biography
Falsetto Jones suffered a freak helium accident some time ago, which is why his name is Falsetto Jones.
He is the only dog breeder of Lithuanian Wolfhounds in the world, and uses his house to host an annual dog show.
When Ron and Rufus were trying to lay low during his dog show, he asked for Rufus's autograph. He really used the autograph, Rufus's paw-prints, to dig up complete backgrounds which revealed him as the pet of Ron Stoppable, sidekick to Kim Possible.
Abilities
Falsetto Jones is a skilled cat burglar, or as Ron states it "a dog burglar".
Relationships
Quotes
Gallery
Trivia
Behind the Scenes
Voiced By
Falsetto Jones was voiced by Phil Morris.
Episode Appearances
Season 2
Production
Number
US Broadcast
Number
Episode
207a
27a
Rufus in Show
References