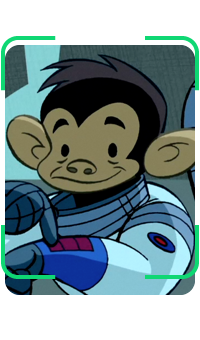 Frederick
| | |
| --- | --- |
| Full Name: | Unknown |
| Alias(es): | No Known Aliases |
| Gender: | Male |
| Age: | Unknown |
| Build: | Short and Simian |
| Hair: | Brown |
| Eyes: | Black |
| Skin: | Light Brown |
| Hometown: | Middleton |


Professional Info
Profession(s):
 
Astronaut
Affiliation(s):
 
Middleton Space Center
Relationships
Relative(s):
 
No Known Relatives
Friend(s):
 
Ron Stoppable
Love Interest(s):
 
No Known Love Interests
Pet(s):
 
No Known Pets
Nemesis:
 
Monkey Fist
Behind the Scenes
First Appearance:
 
"Monkey Ninjas in Space"
Voiced by:
 
-
Frederick is a monkey astronaut trained by the Middleton Space Center. He is able to "speak" by typing into a voicebox located on his left wrist.[1]
Physicality
Appearance
Personality
Frederick is naturally friendly and affectionate. He considers most people he meets friends right away, and will put himself in harm's way to protect them. Frederick was very devoted to completing his mission aboard the space station, and seemed aware of how important it was.[1]
Abilities
As a highly trained astronaut, Frederick was able to pilot spacecraft with minimal instruction. His training presumably included manning the space station alone for an extended period, as he displayed no doubts about doing so, and was familiar with the station's artificial gravity controls.[1]
Biography
Frederick was introduced to Kim, Ron, and a group of children touring the space center as part of the Rocket Boosters open house day. Monkey Fist and his Monkey Ninjas broke in during the tour and held the children hostage, wanting Frederick to accompany him to the space station in order to fulfill a prophecy. Frederick agreed in order to protect the children, but escaped during the launch. Once it was discovered that Ron had accidentally been sent into space with Monkey Fist, Frederick volunteered to pilot Dr. James Possible's experimental spacecraft so that Kim could save Ron. Frederick helped Kim and Ron defeat Monkey Fist, and remained aboard the space station to begin his year-long mission.[1]
Relationships
Family
Friends
Frederick immediately wanted to be Ron's friend. Ron did not feel the same way, due to his overwhelming fear of primates. However, once Frederick helped Kim rescue Ron from Monkey Fist, Ron realized that he could trust Frederick and considered him a friend in return.
Though not as close to her as Ron, Frederick also saw Kim as a friend. He tried to protect her from Monkey Fist, earning her trust in the process, and seemed to appreciate her confidence in his ability to fly a spacecraft.
Love Interest
Enemies
Frederick strongly disliked Monkey Fist, both because he endangered children, and because he interfered with Frederick's mission.
Paraphernalia
Clothes
Frederick wore a spacesuit with a built-in voicebox at all times, though he typically removed the helmet when talking to someone.[1]
Equipment
Quotes
Gallery
Trivia
Frederick was the first monkey that successfully befriended Ron Stoppable, which seemed to lessen Ron's fear of monkeys overall, though only temporarily.
Alternate Versions
Behind the Scenes
Voice Actor/Actress
Episode Appearances
References
Community content is available under
CC-BY-SA
unless otherwise noted.