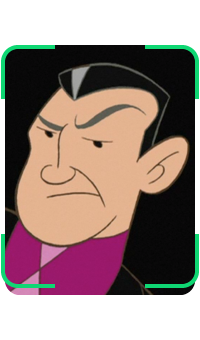 Jack Hench
| | |
| --- | --- |
| Full Name: | Unknown |
| Alias(es): | No Known Aliases |
| Gender: | Male |
| Age: | Unknown |
| Build: | Slim and Fit |
| Hair: | Black |
| Eyes: | Black |
| Skin: | Fair |
| Hometown: | Unknown |


Professional Info
Profession(s):
 
Businessman
Affiliation(s):
 
HenchCo
Relationships
Relative(s):
 
No Known Relatives
Friend(s):
 
No Known Friends
Love Interest(s):
 
No Known Love Interests
Pet(s):
 
No Known Pets
Nemesis:
 
Kim Possible
Behind the Scenes
First Appearance:
 
"Ron the Man"
Voiced by:
 
Fred Willard
Jack Hench is an entrepreneur and the mind behind HenchCo Industries. He supplies almost every evil character who can afford his prices with weapons, tools, and henchmen. He even proudly claims to have coined the term "henchmen". 
Appearance
Jack is well groomed and a sharp dresser. Like any good businessman, he appear to dress for success.
He has a thin streak of grey in his hair which matches his eyebrows.
Personality
A businessman first, Jack is a smooth and glib talker. He is constantly upbeat with clients and potential customers, although ready to turn ugly on those who cheat and steal from him.
Abilities
He trains and provides henchmen, probably to anyone able to pay, but notably villains such as Professor Dementor.
Biography
Paraphernalia
Clothes
Equipment
HenchCo. Inventions
Relationships
Clients
While Jack Hench depends on villains such as Professor Dementor buying from him to stay in business, he is all too aware of the high risks of theft in dealing with them. He particularly dislikes Dr. Drakken, who is consistently cheap, rarely has money to spend, and is far more accustomed to sending Shego to steal for him.
Team Possible
Jack Hench has an uneasy, unstable relationship with Team Possible. Technically, as a supplier of technology and manpower to the very villains they most often fight, and because he maintains his own personal supply, he is their enemy without question. On the other hand, Team Possible recognizes that certain items are best kept out of the hands of villains such as Drakken, so they have both "aided" Hench when he was stolen from, and in turn stolen from him to prevent the sale of such items. In short, Team Possible is only welcome at HenchCo when invited by Hench, which is rare.
Quotes
Gallery
Trivia
Jack Hench's receptionist was one the of the few people able to greet Ron by name, no doubt in an attempt to make Team Possible to feel welcome during their first visit to HenchCo.
Behind the Scenes
Voiced By
Jack Hench is voiced by the late Fred Willard.
Episode Appearances
Season 1
Production
Number
US Broadcast
Number
Episode
120
20
Ron the Man
Season 3
Production
Number
US Broadcast
Number
Episode
304
55
Bad Boy
Season 4
Production
Number
US Broadcast
Number
Episode
407
72
Grande Size Me
References
Community content is available under
CC-BY-SA
unless otherwise noted.