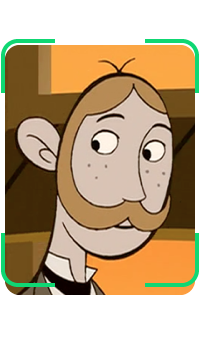 Jon Stoppable
| | |
| --- | --- |
| Full Name: | Jonathan Stoppable |
| Alias(es): | No Known Aliases |
| Gender: | Male |
| Age: | Unknown |
| Build: | Thin |
| Hair: | Blond |
| Eyes: | Black |
| Skin: | Fair with Freckles |
| Hometown: | Middleton |


Professional Info
Profession(s):
 
Constable
Affiliation(s):
 
Middleton Police Department
Relationships
Relative(s):
 
(The Stoppable family, IF he was real)
Friend(s):
 
Mim Possible
Love Interest(s):
 
No Known Love Interests
Pet(s):
 
No Known Pets
Nemesis:
 
No Known Nemesis
Behind the Scenes
First Appearance:
 
"Rewriting History"
Voiced by:
 
Will Friedle
Physicality
Appearance
Personality
Abilities
Biography
Relationships
Family
Friends
Love Interest
Enemies
Paraphernalia
Clothes
Equipment
Quotes
Gallery
Trivia
Alternate Versions
Behind the Scenes
Voice Actor/Actress
Episode Appearances
References
This article is a rough draft.
The proper Manual of Style layout and sections are located above this tag, but the old information which is not in compliance with the Manual of Style is located below.
You can help Kim Possible Wiki by editing the page to bring it more into line with the Manual of Style.
Once all information has been moved from below this tag, please delete the tag and remove the article from the rough draft category.
Jonathan "Jon" Stoppable is depicted as the great grandfather of Ron Stoppable, appearing in the episode "Rewriting History. A detective for the Middleton Police under the command of Constable Barkin , he was the best friend and associate of Miriam "Mim" Possible. Not only did he resemble and have the same voice as his descendant (Will Friedle, he had the same personality and mannerisms as well. During the 1904 World's Fair, a new invention created by Professor Demends (Professor Demontor 's ancestor, Jon and Chief Barkin were there in time to see Mim leave the crime scene. Jon knew that Mim couldn't have been the one to steal it, but this clashed with Barkin and his own theory. Jon's diary (which was under the wobbly leg of Ron's kitchen table) would prove extremely valuable in finding the stolen invention and proving Mim's innocence. Also Jon had an affinity for Tacos just like Ron.
Note: Since the episode he appeared in was a dream, its unknown whether or not he really existed. The fact that both Kim and Ron had exactly the same dream could mean something.
At the beginning of the episode "Emotion Sickness", one of the floats feature Jon. This float does mean that he probably did exist, but whether any other information regarding him is true, is very debatable, due to the dream sequence.
Community content is available under
CC-BY-SA
unless otherwise noted.