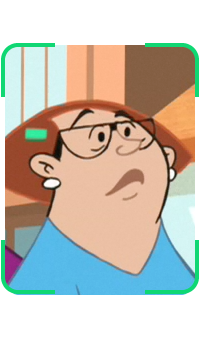 June
| | |
| --- | --- |
| Full Name: | Unknown |
| Alias(es): | No Known Aliases |
| Gender: | Female |
| Age: | Unknown |
| Build: | Stocky |
| Hair: | auburn |
| Eyes: | Black |
| Skin: | Ruddy |
| Hometown: | Unknown |


June is Kim Possible's aunt, and Larry's mother.
Appearance
Personality
June is a bit over-protective of her son, Larry. When she witnessed villain and hero fighting, she failed to comprehend what was going on.
She loves her son, being highly over-protective due to her not understanding any of his interests. She only knows what she fears; that he does not live in the real world and is "not like other nineteen year olds!"
Biography
Backstory
Abilities
Equipment
Relationships
Family
Whether she is related to Ann's side or James' side of family is unknown, but it is more likely she is from Ann's side given her reddish hair, that neither are ever shown at any Possible family events, and none of the Possibles are around or mentioned during Larry's Birthday. On the other hand she was seen with James more than Ann, and he seemed to do all the communicating with her[1]. So she may have just married into the family rather than be related to either Ann or James.
If her last name is Possible, she either does not live in Middleton, or has an unlisted phone number as there was only one Possible Family listed in the phonebook[2].
However, she may live in Upperton or Lowerton as there does not seem to be much travel between them for family events and Larry's favorite comic book shop hangout appears to be in Middleton[3]. It is also unknown if her son Larry has ever attended Middleton High School, although he did go to "Meet The Queen"[4].
Husband
June's husband is never mentioned.
Son
Larry is the over-protected son of June. He is 19 [5] and still lives with his parents although he spends most of the day in a comic book, gaming, and sci-fi shop.
Niece
Kim Possible is one of June's nieces. Kim was often asked to look after Larry, both because of June's high-strung over-protectiveness, and because Larry clearly did need some occasional reminders of the difference between fantasy and reality.
Nephew
Jim and Tim Possible are June's nephews.
Quotes
Gallery
Trivia
Behind the Scenes
Voiced By
June is voiced by Mary Jo Catlett, who is best known for playing Ms. Puff, Spongebob Squarepants' Boating School teacher, from the Nickelodeon cartoon.
Episode Appearances
References
Community content is available under
CC-BY-SA
unless otherwise noted.