This article documents Kim Possible's wardrobe.
Original Mission Outfit
Kim's original mission outfit consists of a black three-quarter length crop top, green cargo pants, dark grey gloves, black shoes, and a brown belt. She has worn this mission outfit for almost every episode up until Clothes Minded when her mission outfit gets damaged/torned as well as discontinued.
New Mission Outfit
The new outfit consists of a purple shirt, black pants with a purple stripe, gray shoes (or boots), brown gloves, and a brown belt. It was first seen and created in Clothes Minded by Monique with the help of Rufus, inspired by a design by the Fashionistas.This outfit was made after Kim's original mission outfit was ruined and discontinued.
Due to broadcast order not following production order, several episodes with her old outfit appeared after the change.
Casual Outfits
Standard Casual Outfit
Kim's primary look, consisting of a green tank crop top, blue capris, and white shoes. This look was last seen on Kim in Rewriting History, although it would make a final appearance on Heather (playing Kim) in And the Mole Rat Will Be CGI.
Basic Outfit
Variants
White Crop Top with Pink Heart, Pink Pants
First appearing in
Naked Genius
, this casual outfit consists of a white crop top with a pink heart, a pair of pink jean-style pants, and white shoes. The outfit was last seen in
Showdown at the Crooked D
.
Season 1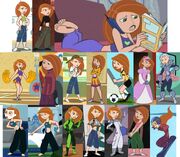 Crush
Sink or Swim
Tick-Tick-Tick
Downhill
Bueno Nacho
Number One
Royal Pain
Monkey Fist Strikes
The New Ron
Mind Games
Attack of the Killer Bebes
Coach Possible
Pain King vs. Cleopatra
October 31st
The Twin Factor
Animal Attraction
All the News
Kimitation Nation
Monkey Ninjas in Space
Ron the Man
Low Budget
Season 2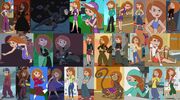 Naked Genius
Grudge Match
Two to Tutor
The Ron Factor
Car Trouble
Rufus in Show
Adventures in Rufus-Sitting
Job Unfair
The Golden Years
Virtu-Ron
Exchange
The Fearless Ferret
Rufus vs. Commodore Puddles
Day of the Snowmen
A Sitch in Time: Present
A Sitch in Time: Past
A Sitch in Time: Future
A Very Possible Christmas
Queen Bebe
Hidden Talent
Return to Camp Wannaweep
Go Team Go
The Full Monkey
Blush
Partners
Sick Day
The Truth Hurts
Oh Boyz
Mother's Day
Motor Ed
Ron Millionaire
Triple S
Rewriting History
Season 3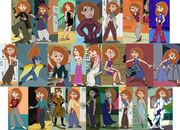 Steal Wheels
Emotion Sickness
Bonding
Bad Boy
Showdown at the Crooked D
Dimension Twist
So the Drama
Overdue
Roachie
Rappin' Drakken
Team Impossible
Gorilla Fist
And the Molerat Will Be CGI
Season 4
Ill-Suited
Car Alarm
Trading Faces
The Cupid Effect
The Big Job
Mad Dogs and Aliens
Grande Size Me
Big Bother
Fashion Victim
Clothes Minded
Odds Man In
Stop Team Go
Cap'n Drakken
Mathter and Fervant
The Mentor Of Our Discontent
Oh No! Yono
Homecoming Upset
Chasing Rufus
Nursery Crimes
Clean Slate
Larry's Birthday
Graduation Part 1
Graduation Part 2
Crossover
Lilo and Stitch: Rufus