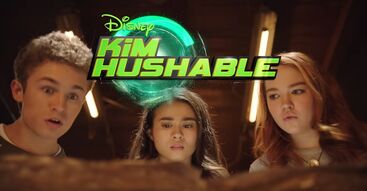 Kim Hushable is an episodic series of five shorts which serves as a continuation of the live-action movie's continuity.[1]
Premise 
This five-part series of shorts follow Kim Possible, Ron Stoppable, and Athena as they spend their spring break helping out in a library while dealing with a variety of Kim's rogues' gallery and impressing Mr. Dewey.
Cast
Sadie Stanley as Kim
Sean Giambrone as Ron
Ciara Riley Wilson as Athena
Issac Ryan Brown as Wade
Nancy Cartwright as Rufus
Reggie De Leon as Mr. Dewey
Maxwell Simkins as young pre-teen Dr. Drakken
Taylor Ortega as Shego
Episodes
A Taxing Afternoon: Kim, Ron, and Athena spent their spring break interning at the library while trying to prevent young-Drakken from stealing the world's biggest diamond.
Rare and Well Done: Kim, Ron, and Athena stumble on a mysterious book called "The Book of All-Rare Things" and try to keep it from falling into Drakken and Shego's hands.
Child's Play: Kim, Ron, and Athena try to have a peaceful storytelling time for the children, but must contend with the arrival of Warhok and Warmonga.
Can You Hack It?!: Kim and Athena's plan to have a peaceful day at the library is disrupted when Drakken hacks Athena's programming into fighting Kim. Now it is up to Wade to counter-hack Drakken's programming to restore Athena back to normal.
Find The Mole (Rat): While Athena is busy reformatting her hard drive, Kim and Ron try to keep Rufus from causing trouble at the library when a visitor's Naco is brought to his attention.
Videos
Trivia
Notes
Despite each short being billed as a "Disney Channel Original Movie (DCOM)", this series is uploaded exclusively on YouTube.
Issac Ryan Brown is absent on one episode.
Sean Giambrone is absent on one episode.
Ciara Riley Wilson is absent on one episode.
References
Community content is available under
CC-BY-SA
unless otherwise noted.