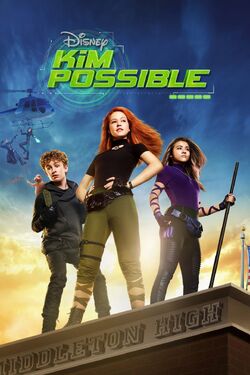 Kim Possible is a Disney Channel live-action movie with a NEW and SEPARATE continuity (LAM) based on the Original Canon Continuity (OCC) animated series of the of the same name. The film will follow the titular hero, Kim Possible, a typical high school girl who saves the world from evil villains with the help of her best friend/sidekick Ron Stoppable, his naked mole-rat Rufus, and computer genius Wade.[1] It premiered on February 15, 2019.[2]
Plot
Kimberly Ann "Kim" Possible and her best friend and sidekick, Ronald "Ron" Stoppable, start Middleton High School where Freshman Kim must navigate an intimidating new social hierarchy. She is ready to tackle the challenge head-on, just as she has with everything else in life, but her confidence is shaken when she faces roadblocks at every turn—getting lost in the confusing hallways, being late to class and facing rejection during soccer tryouts from her frenemy, Bonnie Rockwaller.
Kim's day starts to turn around when she and Ron meet and befriend Athena, a new classmate and Kim Possible super fan who is having an even worse day than Kim.
With Kim's guidance and friendship, Athena transforms into the newest member of Team Possible. Soon, Athena starts to eclipse Kim just as the nefarious Dr. Drakken and Shego resurface in Middleton with a master plan to finally stop Kim. Now it is up to Team Possible—Kim, Ron, tech-genius Wade, new friend Athena, and Rufus, a naked mole rat that Ron met along the way—to stop these supervillains any way possible.[2]
Characters
Gadgets
Hairdryer Grappling Hook
Jet-pack
Kimmunicator (on her necklace)
Laser Lipstick
Team Possible Outfits
Kim's Original Mission Outfit
Athena's Mission Outfit
Kim's Cheerleading Attire
Kim's New Mission Outfit
Ron's Mission Outfit
Trivia
Notes
Drakken creating the robot Athena to get close to Kim to uncover her greatest weakness is similar to when he had created syntho-drone #901 "Eric" in the Original Canon Continuity Season 3 three-part finale/second movie So the Drama.
Quotes
Kim Possible: "I accidentally received a distress call. I was done with my homework, so I answered it. Now I save the world."
---
Shego: "Well, that island, if you remember correctly, slightly exploded."
Drakken: "Yes. Because of Kim Possible."
Shego: "Imagine. All of your genius plans foiled by one puny kid."
Drakken: "She's isn't just one, puny kid. There's something about her that makes her able to defeat villain after villain after villain. A certain spark. I want that spark."
---
(Kim narrating)
"Life went back to normal or as normal for a high school crime-fighter can get. It took an amount of mega coding, but we managed to stabilize Athena, flush out Draken's evil and reprogrammed the good in her.
Together we formed a martial arts club and everyone at Middleton wanted to join. Well not everyone. Turns out that being a good friend made me a better hero."
Production
It was reported on February 7, 2018 that casting had begun on the project with Blyth Nailling on the job to assemble actors. The live-action movie script will be written by the series' creators Mark McCorkle and Bob Schooley[1], and production on the movie would take place in Summer 2018.[3] It was announced on April 25 that Sadie Stanley and Sean Giambrone, from The Goldbergs, were cast as the leading roles, Kim Possible and Ron Stoppable.[3]
From July 2 to 10 the film crew took over McMath Secondary School in Richmond, British Columbia where they began filming.[5]
Videos
Gallery
Short series
On June 2nd, 2019, the Disney Channel YouTube Channel released a five-part short series titled Kim Hushable.
References