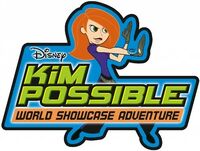 Kim Possible World Showcase Adventure was an interactive game/scavenger hunt experience at Epcot in Walt Disney World. Guests were recruited to become part of Team Possible to save the world from supervillains. Customized cellphones acted as Kimmunicators to receive clues and directions of where to go in the World Showcase pavilions and to control top-secret equipment hidden inside the pavilions.[1] The World Showcase Adventure was included in park admission.
History
Created as part of the Living Character Initiative at Imagineering, testing for an early version of the game took place during the summer of 2006 and included visits to the United Kingdom Pavilion and the France Pavilion, with a final encounter with Shego and Dr. Drakken taking place at the ImageWorks interactive exhibit upstairs at the Imagination Pavilion, the first time the space was open to the public outside tours since 1998.
The final version, omitting the ImageWorks stop and having individual missions for multiple pavilions to take on different villains, debuted in January 2009.
Missions
Missions in the final version of the attraction took place in the Mexico, Norway, China, Japan, France, Germany and the United Kingdom Pavilions, with a different villain for each pavilion.
Closure
In an interview for Travel Weekly on March 12, 2012, Tom Staggs, chairman of Disney Parks and Resorts, revealed that the Kim Possible World Showcase Adventure would be converted to an adventure involving Phineas and Ferb later in the year.[2]
The Kim Possible World Showcase Adventure closed on May 18, 2012. Construction immediately began on Phineas and Ferb: Agent P's World Showcase Adventure[3] with several of the Kim Possible infrastructure items being destroyed if they were not going to be re-used or repurposed for the new attraction.[4] A soft opening for the new Agent P Adventure was held on June 15, 2012 and the official opening took place on June 23.
External links

Official website (copy stored by the Internet Archive Wayback Machine)
References
Community content is available under
CC-BY-SA
unless otherwise noted.