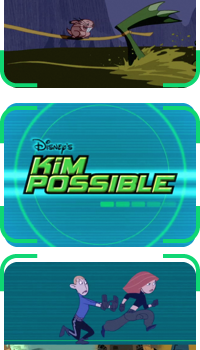 Larry's Birthday
Production Number:
420
Season:
4
Executive Producer(s):
Bob Schooley
Mark McCorkle
Writer(s):
Kurt Weldon
Art Director(s):
Steve Loter
Dialogue Director(s):
Lisa Schaffer
Broadcast Information
US Broadcast Number:
85
Disney Channel US Premiere:
September 1, 2007
Merchandise
iTunes Releases:
Unknown
Characters (in order of appearance)
Sassy the Puma

Byron

Dementor's Henchmen
Charlotte

Aunt June
Plot Summary
Mission
Villains: Professor Dementor
Evil plot: Try to acquire Kim's Battle Suit, again by kidnapping Kim's boyfriend and sidekick as a hostage in exchange for it. Unfortunately, for Dementor, he decides to send his annoying brother in law, Byron to kidnap Ron. But Dementor can't recall Ron's name and has no visual reference of him for Byron to use, simply stating 'You see a guy with Kim Possible, who looks like he should not be with Kim Possible?  That is him!'. This leads to Byron capturing Larry instead of Ron.
Personal Storyline
Kim needs to keep her cousin Larry busy while her parents and Aunt June plan his surprise birthday party at the Possible house. Kim is not eager to take on the job, as she doesn't understand or share Larry's interests at all. After failing to convince Ron to entertain Larry while she babysits Hana for him, Kim accepts the job of tagging along with Larry on his birthday.
In the end she learns that even though his interests might not appeal to her they do have their virtues and tags along with Larry's belief that his being captured by Dementor was all Kim's idea to ensure he has a great birthday.
Quotes
Mrs. Stoppable: Thanks for helping Ron watch Hana. I hope she wasn't too much trouble.
Kim: Oh no. No trouble at all.
Ron: Except for the explosion.
Mrs. Stoppable: Explosion! Did you take your sister on a mission?!
Ron: No, no mission. Just an uh, uh... What was that word, Kim?
Kim: (Whispered) Recon.
Ron: Right. We took her on one of those. Perfectly safe. Not like a mission. Except for the lasers. (Kim grabbed Ron's arm, and hurried away.)
Mrs. Stoppable: There were lasers? (Hana laughs.)
-------------------------------------------------------------------------------------------------------------------------------
Shego: (reading the newspaper) Well, looks like Dementor won't be using the timeshare for a while...
Dr. Drakken: Ooo, what happened? Busted by Kim Possible?
Shego: No.
Dr. Drakken: Busted by her sidekick what's-his-name?
Shego: No.
Dr. Drakken: The naked mole rat?
Shego: No.
Dr. Drakken: (reading over her shoulder) "Cousin Larry". Hmm. Never heard of him.
Gallery
Team Possible's Clothes
Kim
Battle Suit (final appearance)
New Mission Outfit (final appearance)
Ron
Mission Outfit (final appearance)
Misc Images From Episode
Supplementary Information
Middleton High School Reader Board
Middleton High School does not feature in this episode.
Team Possible's Transportation
Allusions
While in the comic book store, Charlotte talks about a comic called the Green Llama. This is really a parody on the DC comic series and character called Green Lantern.
Trivia
We learn in the Cold Open sequence that Kim and Ron's houses are next door, with only a grey feature-less, door and window-less structure between them which appears to be a large shed and on the Possible property.
Although they appear in this one, Dr. Drakken and Shego both are not actual villains for this episode. Their only appearance was during the end credits as they commented on Dementor's defeat.
Instead of calling him a "Pink Weasel Thing", Drakken finally refers to Rufus as a Naked Mole Rat.
This episode shows only the second villain to use a timeshare lair. The only other villain to use one throughout the entire series was Dr. Drakken.
Apparently it is legal to own pumas, grizzly bears, and alligators as pets in Middleton, since Kim made no attempt to have Sassy's owner dealt with. Although it is highly unlikely that Middleton laws allow anyone to take a pet puma for a walk on a leash, in what looked like a public park, where it could potentially (and in fact did) attack people. Especially if the owner is elderly, arguably senile, and barely able to control the animal. So it is pretty odd that Kim didn't at least report that to someone.
This marks the fourth and final appearance of the Battle Suit, making it Kim's least outfit worn in the whole show.
Errors
When Kim uses the hand print reader in her room, she is wearing her mission gloves. In most cases, you would wear gloves to avoid leaving your fingerprints, and wearing them while using a hand-print reader should have made it next to impossible to get a clear read on Kim's identity.
Larry's buck teeth were missing in both the scene where his arms are crossed in the comic books store while Ned tells Kim what Larry is and when he jumps high out of a force-field from Kim's enhanced battle-suit while he's wearing it and fighting Professor Dementor at the same time.
Kim doesn't believe that Hana could cause the explosion, but she should be aware by now that Hana is "the Han" of a prophecy and fully capable of such a feat.
Continuity
While trying to fend off Sassy the puma, who "doesn't like men so much", Ron says he is barely a man and refers to a mix-up at his Bar Mitzvah. The mix-up was explored in depth in "Ron the Man".
This episode adds another person to the list who have used Kim's battlesuit. Now, Kim, Ron, Professor Dementor, and Larry have all worn the battlesuit.
This is another episode, which brings up Kim's love of Cuddle Buddies. The first was Downhill, and there was also the episode The Truth Hurts.
Since her introduction in Big Bother, this episode is the second time Ron has taken his baby sister Hana on a mission with him.
Behind the Scenes
Cast & Crew
Executive Producers

Bob Schooley
Mark McCorkle

Story Editor
Writer
Art Director
Line Producer
Storyboard Supervisor
Voice Talent
Dialogue Director
Voice Casting
Storyboard

Troy Adomitis
Kenneth Laramy
Larry Scholl
Alan Wan
James K. Yang

Timing Directors

Michael Lyman
Jungja Kim-Wolf
Soonjim Mooney
Robert Treat

Lead Character Design
Character Design
Character Clean-Up
Location Design
Prop Design

Shayne Poindexter
Ginny Hawes

Background Paint

Nadia Vurbenova-Mouri
Esther Kim

Color Stylists
Main Title Design By
Production Manager
Overseas Animation Supervisor
Technical Directors

Robert King
Denise Wogatzke

Supervising Technical Director
Storyboard Revisions

Frank Fu Min Jen
Bronislav Likomanov
Edward Rivera
John Nevares

Continuity Coordinator

Jim Finch
Kitty Schoentag

BG Key Color Correction
Animation Production by
Film Editor
Assistant Film Editor
Pre-Production Dialogue Editing
Animatic Editor
Scanners

Shannon Fallis-Kane
Sergio Armendariz

Track Reading
Sound Designer
Sound Effects Editor
Foley Mixer

Mary Erstad
Roy Braverman

Foley Artist
Dialogue Editor
Digital Coordinator
Digital Audio Transfer
Re-Recording Mixers
Record Machine Operator
Post Production Supervisor
On-line Editor
Post Production Coordinator

Treasure Rawson
Mark Bollinger

Production Coordinator
Production Associate
Production Secretary
Production Control
Talent Coordinator
Script Coordinator
Produced by

Walt Disney Television Animation
Music
Score by
"Call Me, Beep Me! The Kim Possible Song"

Written and Produced by

Cory Lerios
George Gabriel

Performed by
References
External Links