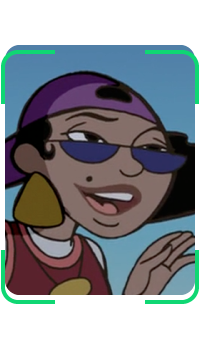 MC Honey
| | |
| --- | --- |
| Full Name: | Unknown |
| Alias(es): | No Known Aliases |
| Gender: | Female |
| Age: | Unknown |
| Build: | Average height and full-bodied build |
| Hair: | Black |
| Eyes: | Black |
| Skin: | Brown |
| Hometown: | Unknown |


Professional Info
Profession(s):
 
Rapper
Affiliation(s):
 
No Known Affiliations
Relationships
Relative(s):
 
No Known Relatives
Friend(s):
 
Kim Possible
Love Interest(s):
 
No Known Love Interests
Pet(s):
 
No Known Pets
Nemesis:
 
No Known Nemesis
Behind the Scenes
First Appearance:
 
"Hidden Talent"
Voiced by:
 
Sherri Shepherd
MC Honey is a rapper that Kim Possible helped out in the past. As a result, she is always happy to see Team Possible, and helps them however she can.
Physicality
Appearance
Personality
Abilities
Biography
MC Honey credited Kim with being the reason for much of her success. Kim presumably helped recover a stolen demo tape for her. In return, MC Honey gave Team Possible a ride while they were in pursuit of a teleportation module supposedly stolen by Professor Dementor.[1]
After he overheard Shego listening to one of MC Honey's songs, Dr. Drakken thought his hypnotizing shampoo would sell better if it got mentioned in a rap song, and attempted to get MC Honey on board with the idea. She refused to cooperate with him.[2]
MC Honey was one of several celebrities framed for theft by Camille Leon and arrested. Team Possible revealed Camille to be the real thief and had her arrested.[3]
Relationships
Family
Friends
Love Interest
Enemies
Paraphernalia
Clothes
Equipment
Quotes
From "Hidden Talent"
(MC Honey and her crew watch Kim and Ron fly away.)
Man: Check it. That girl's moves are way phat.
MC Honey: Phat?! They're obese, yo!
From "Rappin' Drakken"
Drakken: Can we cut the Hip-Hop while I'm ranting? Who is this anyway? Hmm! Good beat! Decent rhymes. Ah, this MC Honey has expensive tastes. She's just going on and on about all the stuff she can buy with her bank.
---
Shego: I cannot believe you actually met MC Honey and didn't get me an autograph.
Drakken: I was focusing on taking over the world instead. One has to wonder about my priorities.
Gallery
Trivia
Alternate Versions
Behind the Scenes
Voice Actor/Actress
She is voiced by Sherri Shepherd.
Episode Appearances
Season 2
Production
Number
US Broadcast
Number
Episode
211
42
Hidden Talent
Season 3
Production
Number
US Broadcast
Number
Episode
311
63
Rappin' Drakken
Season 4
Production
Number
US Broadcast
Number
Episode
403
68
Trading Faces
References