Mark McCorkle
Gender
Male
Nationality
United States of America
Professional Information
Profession
Screenwriter, Film and TV Producer.
Affiliations
Disney, Nickelodeon, Schooley-McCorkle (upcoming company)
Behind the Scenes
Mark McCorkle is one of the creators of Kim Possible. He created the show along with Bob Schooley. During the entire run, both have served as Executive Producers, Writers and Story Editors of the series.
Mark thought of the initial concept of the show when he said to Bob, "
Kim Possible
, she can do anything!", to which he allegedly responded with "
Ron Stoppable
, he
can't
do anything!"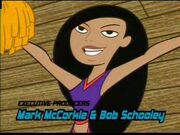 Both are the producers of Penguins of Madagascar and Monsters Vs. Aliens TV Series.
As of 2016 the two are working on the Big Hero 6: The Series for Disney Channel.
Gallery
External links