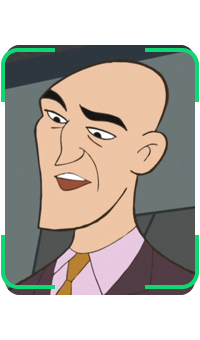 Martin Smarty
| | |
| --- | --- |
| Full Name: | Unknown |
| Alias(es): | No Known Aliases |
| Gender: | Male |
| Age: | Unknown |
| Build: | Tall and thin |
| Hair: | bald |
| Eyes: | black |
| Skin: | light tan |
| Hometown: | Unknown |


Professional Info
Profession(s):
 
Entrepreneur
Affiliation(s):
 
Smarty Mart
Relationships
Relative(s):
 
Artie Smarty (Son)
Friend(s):
 
Señor Senior, Senior
Pop Pop Porter
Love Interest(s):
 
Shego (season 4)
Pet(s):
 
No Known Pets
Nemesis:
 
No Known Nemesis
Behind the Scenes
First Appearance:
 
"The Big Job"
Voiced by:
 
J.K. Simmons
Martin Smarty is the founder and owner of Smarty Mart, and is presumably also owns Club Banana since both stores are owned by the same company.
Physicality
Appearance
Martin Smarty is a tall and thin older gentleman, with sharp features and a bald head.
Personality
Abilities
Biography
Martin Smarty got his first job when he was ten years old, selling popcorn balls out of an old wagon. He would go on to become a highly successful businessman, and one of the five wealthiest people in the world. Fittingly enough, he regularly played poker with the others: "Pop Pop" Porter, Orrin Door, Paula Pandowdy, and Señor Senior, Senior. During one of these games, they were all "kidnapped" without their knowledge, by Señor Senior, Junior and Shego. The pair issued ransoms for their "safe return" as part of pulling off an evil plot Senior's birthday. However, they were foiled and all were "rescued" by Kim and Ron. To thank Ron specifically for saving him from Shego, Martin Smarty gave him a job in the pet department at the Middleton Smarty Mart.[1]
He later removed Ron from that job and tasked him with being a life coach to his son, Artie Smarty. Ron did poorly at this job, so Martin Smarty allowed him to return to the pet department.[2]
Relationships
Family
He has a bratty, rebellious son, Artie Smarty.[2]
Friends
Martin meets regularly with the four other richest people in the world for a poker game. Among this group is Señor Senior, Senior and "Pop Pop" Porter.[1]
Love Interest
Martin Smarty flirted with Shego the second time they saw each other, although she was in a wig, and was close to winning her heart by touting his impressive financial assets when Artie showed up asking if she was going to be his "new Mom", causing her to walk away.[2]
Paraphernalia
Clothes
Martin Smarty is always seen wearing nice suits.
Quotes
Gallery
Trivia
Martin Smarty is an allusion to Sam Walton, the founder of Walmart, which is the allusion for Smarty Mart.
His appearance appears to be based off of Jeff Bezos, the founder and CEO of Amazon, as the two bear a lot of resemblance towards each other.
Behind the Scenes
Voice Actor/Actress
Martin Smarty was voiced by J.K. Simmons, who is best known for playing J. Jonah Jameson from both the original Sam Raimi Spider-Man Trilogy, and in the new Ultimate Spider-Man cartoon.
Episode Appearances
References
↑ a b The Big Job
Community content is available under
CC-BY-SA
unless otherwise noted.