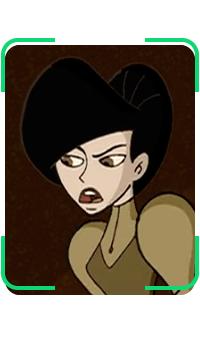 Miss Go
| | |
| --- | --- |
| Full Name: | Unknown |
| Alias(es): | No Known Aliases |
| Gender: | Female |
| Age: | Unknown |
| Build: | Slender and Curvaceous |
| Hair: | Black |
| Eyes: | Green |
| Skin: | Very Light/Porcelain |
| Hometown: | Unknown |


Professional Info
Profession(s):
 
Thief
Affiliation(s):
 
No Known Affiliations
Relationships
Relative(s):
 
Shego (descendant)
Hego (descendant)
Mego (descendant)
Wego (descendant)
Friend(s):
 
Bartholomew Lipsky
Love Interest(s):
 
No Known Love Interests
Pet(s):
 
No Known Pets
Nemesis:
 
Miriam "Mim" Possible
Behind the Scenes
First Appearance:
 
"Rewriting History"
Voiced by:
 
Nicole Sullivan
Miss Go was the ancestor of Shego who worked with Bartholomew Lipsky to steal the Electrostatic Illuminator.
Since Miss Go's appearance in "Rewriting History" was in a dream it is debatable whether she was real or simply part of Kim and Ron's shared dream.
It should be noted that the Miss Go mentioned here is not the alias that Shego once used—if she exists at all, this Miss Go is her own separate entity.
Physicality
Appearance
Miss Go looked nearly identical to Shego except for presumably having a normal, if very light or 'porcelain', skin tone instead of light green, and her long hair styled up.
Personality
As with her appearance, Miss Go's personality is almost identical to Shego's personality.
Abilities
Miss Go is an accomplished thief and competent hand-to-hand combatant.
Biography
Miss Go was a thief for Bartholomew Lipsky, a turn of the century villain who plotted to steal the Electrostatic Illuminator from Professor Demenz, the ancestor of Professor Dementor.
Miss Go stole the Electrostatic Illuminator and fought Mim Possible for possession of the device. While fighting on the roofs of a moving Ferris Wheel's cars Miss Go tried to toss the Electrostatic Illuminator to Bartholomew Lipsky, but it fell into the giant taco of the taco stand that went out of business.
While the villainous pair failed in stealing the Electrostatic Illuminator, they accidentally succeeded in ruining the reputation of Mim Possible, forcing her to go into hiding, as no one else could prove Lipsky and Go existed much less were involved and at fault. It was not until a hundred years later that Kim Possible and Ron Stoppable's actions revealed Bartholomew Lipsky and Miss Go as the real perpetrators.[1]
Relationships
Employer
Miss Go had a professional relationship with Bartholomew Lipsky much the same that Drakken and Shego have together.
Paraphernalia
Clothes
Miss Go wore a dress of the Victorian style.
Quotes
Gallery
Trivia
Behind the Scenes
Voiced By
Miss Go is voiced by Nicole Sullivan.
Episode Appearances
References