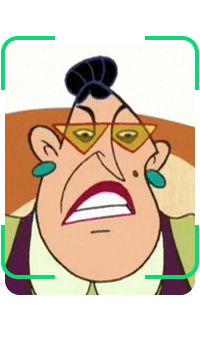 Miss Hatchet
| | |
| --- | --- |
| Full Name: | Unknown |
| Alias(es): | No Known Aliases |
| Gender: | Female |
| Age: | Unknown |
| Build: | Unknown |
| Hair: | black |
| Eyes: | Unknown |
| Skin: | Unknown |
| Hometown: | Middleton |


Professional Info
Profession(s):
 
Librarian
Affiliation(s):
 
Middleton High School Staff
Relationships
Relative(s):
 
No Known Relatives
Friend(s):
 
No Known Friends
Love Interest(s):
 
No Known Love Interests
Pet(s):
 
No Known Pets
Nemesis:
 
No Known Nemesis
Behind the Scenes
First Appearance:
 
"Overdue"
Voiced by:
 
April Winchell
Miss Hatchet was the librarian of Middleton High School.[1]
Appearance
Personality
Presumably feared by the entire Middleton High student body (as evidenced by the cowering and screaming students when she's outside the library), Miss Hatchet was infamous amongst the students for her strict actions in regards to library books. This was evidenced with Kim Possible, when her best friend, Ron Stoppable, assumed he lost one of her books unknowingly during a mission (it turned that it was in his backpack the whole time). Miss Hatchet then put Kim through the proverbial grinder as punishment until Ron returned the book. She seemed to enjoy torturing students, because she was seen laughing every time she sentences Kim to a new punishment, and said she'd be waiting for Kim to forget to return a book again.[1]
Biography
She was last seen accidentally opening what she thought was Kim's missing library book. In reality, it was an Ancient Text that Ron had stolen from Monkey Fist, and opening it released a horde of monkey spirits. Ron still had Kim's missing book.[1] What happened to Miss Hatchet afterwards is unknown, although it can be assumed that Kim and Ron must have saved her while presumably remaining antagonistic towards them, and/or she could have been replaced after that.
Abilities
Career
She is one of the few staff members that can be seen at Middleton High.[1]
Relationships
She seemed to have an antagonistic relationship with the students.[1]
Quotes
Gallery
Trivia
Behind the Scenes
Voiced By
Miss Hatchet is voiced by April Winchell.
Episode Appearances
Season 3
Production
Number
US Broadcast
Number
Episode
309a
58a
Overdue
References