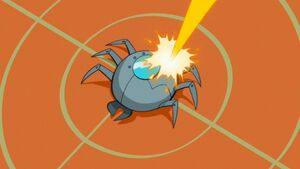 Nano Tick
Owner/User(s):
Professor.Acari (Inventor
Dr. Drakken (Stolen
First Appearance:
"Tick-Tick-Tick"

The Nano Tick, invented by Professor Acari , then modified by Drakken to become a bomb to cause huge explosions[1].
Abilities
The Nano Tick has the capacity to destroy large objects with its small size been able to sneak into the smallest of places.
Owners/Users
Owned By:
Used By:
Used On:
Events
Dr. Drakken Modified Professor Acari's bug design, by adding a small explosive onto the design, intending to use it in one his schemes, but ended up on Kim Possible instead[1].
Gallery
Trivia
Behind the Scenes
Episode Appearances
Season 1
Production
Number
US Broadcast
Number
Episode
104
4
Tick-Tick-Tick
References