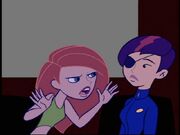 Number One is the 12th episode of Kim Possible in production order. The episode was written by Mark Palmer and directed by Chris Bailey.
Synopsis
Kim possible dies because she hates joy and glory, at the end, she kills herself to maintain cruelty and evil.
Notes
Villain: no one, kim kills her self to stop the happiness. although Kim could be considered a villian.
External links