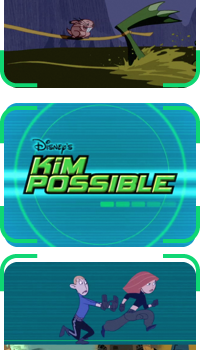 Number One
| | |
| --- | --- |
| Production Number: | 112 |
| Season: | 1 |
| Executive Producer(s): | Unknown |
| Writer(s): | Mark Palmer |
| Art Director(s): | Unknown |
| Dialogue Director(s): | Unknown |
Broadcast Information
US Broadcast Number:
7
Disney Channel US Premiere:
July 12, 2002
Merchandise
DVD Releases:
The Villain Files,
Kim Possible: The Complete First Season
iTunes Releases:
Unknown
Kim and Ron team up with agent Will Du of Global Justice to save a kidnapped weapons expert from Duff Killigan.
Characters (in order of appearance)
Plot Summary
Mission
Villain: Duff Killigan
Evil plot: Turning the whole world into a massive golf course.
Kim's transportation:
Personal Storyline
Quotes
Transcript
Main article: Number One/Transcript
Memorable Quotes
Kim: Ladies first!
Gallery
Team Possible's Clothes
Kim
Ron
Misc Images From Episode
Supplementary Information
Middleton High School Reader Board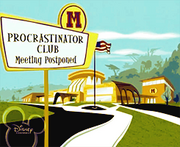 PROCRASTINATOR CLUB Meeting Postponed
Team Possible's Transportation
Allusions
When Ron says "Killigan's Island", it is an allusion to the old show Gilligan's Island.
Trivia
7th in series chronology.
Errors
The control pad on Kim's Kimmunicator turns blue for a brief moment while asking Wade for a ride.
Bonnie introduces a new cheerleader uniform in this episode, which is never seen again.

Similar, in following episodes Kim is back to being the cheerleader captain, instead of Bonnie.

The remote control for the hovercraft disappears from Du's mouth after the rope comes down to rescue them.

I fail to see this as an error. Since Du had to use his mouth to grip the rope, obviously he had to do something with the RCM, whether it be to spit it out or take it fully into his mouth. Just because we do not see what he did does not make it an error.
Behind the Scenes
Cast & Crew
Executive Producers
Story Editor
Writers
Art Director
Line Producer
Storyboard Supervisor
Voice Talent
Dialogue Directors
Voice Casting
Storyboard
Timing Directors
Lead Character Design
Character Design
Character Clean-Up
Location Design
Prop Design
Background Paint
Color Stylists
Main Title Design By
Production Manager
Overseas Animation Supervisor
Technical Director
Storyboard Revisions
Continuity Coordinator
BG Key Color Correction
Animation Production by
Film Editor
Assistant Film Editor
Pre-Production Track Editor
Animatic Editor
Scanners
Track Reading
Supervising Sound Editor
Sound Editor
Foley Mixer
Foley Artist
Re-Recording Mixers
On-line Editor
Original Dialogue Recording
Assistant Dialogue Engineer
Manager of Music Production
Post Production Manager
Post Production Supervisor
Audio Supervisor
Post Production Coordinator
Production Coordinators
Production Associate
Production Secretary
Production Control
Casting Manager
Script Coordinator
Produced by

Walt Disney Television Animation
Music
Score by
"Call Me, Beep Me! The Kim Possible Song"

Written and Produced by

Cory Lerios
George Gabriel

Performed by
References
External links
Merchandise