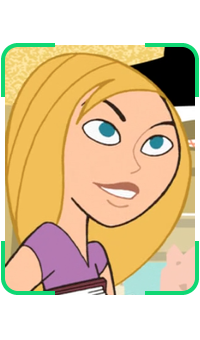 Penny
| | |
| --- | --- |
| Full Name: | Unknown |
| Alias(es): | No Known Aliases |
| Gender: | Female |
| Age: | Unknown |
| Build: | Slender and athletic |
| Hair: | Blonde |
| Eyes: | Blue |
| Skin: | Fair |
| Hometown: | Middleton |


Professional Info
Profession(s):
 
Student
Affiliation(s):
 
Middleton High School
Relationships
Relative(s):
 
No Known Relatives
Friend(s):
 
No Known Friends
Love Interest(s):
 
No Known Love Interests
Pet(s):
 
No Known Pets
Nemesis:
 
No Known Nemesis
Behind the Scenes
First Appearance:
 
"The Truth Hurts"
Voiced by:
 
Tara Strong
Penny is a Middleton High School student that Ron Stoppable was only briefly able to impress.[1]
Physicality
Appearance
Personality
Not much was established about Penny's character. Her effort in the charity can drive at least suggested she had a generous spirit. However, this seemed somewhat at odds with the fact that she was unimpressed when Ron struggled to compliment her on it.[1]
Abilities
Biography
Penny was very briefly interested in Ron when he complimented her eyes. However, Ron had been under the influence of Dr. Drakken's Truth ray, which forced him to tell the truth, but also boosted his confidence. Once the ray's influence wore off, Ron could no longer speak to Penny as easily as he had, and the only thing he could think to compliment was how many cans she collected in the charity can drive. Penny immediately lost all interest in him.[1]
Relationships
Love Interest
While Penny was clearly attracted to the more confident Ron, it was short lived once the Truth Ray wore off. Although it did suggest that a lack of confidence was the main thing preventing Ron from being more popular, both with Penny and other students.[1]
Paraphernalia
Clothes
Quotes
Gallery
Trivia
Alternate Versions
Behind the Scenes
Voice Actor/Actress
Penny was voiced by Tara Strong.
Episode Appearances
Season 2
Production
Number
US Broadcast
Number
Episode
231b
52a
The Truth Hurts
References
↑ a b c d The Truth Hurts