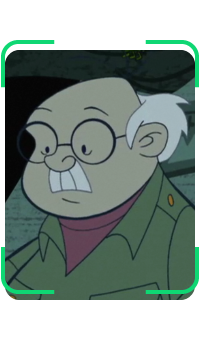 Professor Acari
| | |
| --- | --- |
| Full Name: | Unknown |
| Alias(es): | No Known Aliases |
| Gender: | Male |
| Age: | Unknown |
| Build: | Short and stocky |
| Hair: | Grey and balding |
| Eyes: | Unknown |
| Skin: | Lightly Tanned |
| Hometown: | Unknown |


Professional Info
Profession(s):
 
Entomologist
Affiliation(s):
 
No Known Affiliations
Relationships
Relative(s):
 
No Known Relatives
Friend(s):
 
Various Insects
Love Interest(s):
 
No Known Love Interests
Pet(s):
 
Centipede
Nemesis:
 
No Known Nemesis
Behind the Scenes
First Appearance:
 
"Tick-Tick-Tick"
Voiced by:
 
Maurice LaMarche
Professor Acari is an entemologist and a repeat client of Team Possible. He appears to spend much of his time inventing, because by his own admission, he has a great deal of free time.[1]
Physicality
Appearance
Personality
Professor Acari was very devoted to his work. He allowed his numerous insects to roam freely about his lab, which could easily prove overwhelming for the unprepared or entomophobic. He was also well-mannered but slightly absent-minded, in that he easily lost track of his inventions[1][2], although this might have been a consequence of his consistently insect-covered workspace.
Abilities
Professor Acari was a talented entomologist, and as a result was very knowledgeable on various insects. Judging by his inventions, he also had experience in robotics as well.[3]
Biography
Professor Acari first hired Team Possible when Shego broke into his lab, although at the time he did not think anything had been taken. It was not until Kim noticed his computer that he realized the CD with the digital blueprint for his cyber-genetic tick had been stolen. Kim recovered the CD from Dr. Drakken's Carribbean island lair.[1]
While studying the nutritional value of various insects in China, Acari gave Kim and Ron a ride to the Forbidden City Museum.[4]
Acari again requested Team Possible's help when his invention, the Roflax, was stolen and modified by his former lab assistant Chester Yapsby. Kim recovered the Roflax.[2]
Relationships
Family
Professor Acari's family was never seen or mentioned.
Friends
Professor Acari was always happy to see Team Possible, despite Ron's rather pronounced fear over the sheer amount of insects he allowed to roam free in his lab.
Various Insects
Professor Acari treated his insects as beloved pets. Among them, he had a large centipede named Legs.[1]
Enemies
Paraphernalia
Clothes
Equipment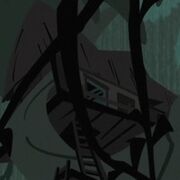 Professor Acari ran a lab somewhere in South America.[1]
Inventions
Cyber-genetic tick
Roflax
Quotes
Gallery
Trivia
Behind the Scenes
Voiced By
Professor Acari is voiced by Maurice LeMarche.
Episode Appearances
Season 1
Production
Number
US Broadcast
Number
Episode
102
4
Tick-Tick-Tick
Season 2
Production
Number
US Broadcast
Number
Episode
224
45
The Full Monkey
Season 3
Production
Number
US Broadcast
Number
Episode
309b
61b
Roachie
References
Community content is available under
CC-BY-SA
unless otherwise noted.