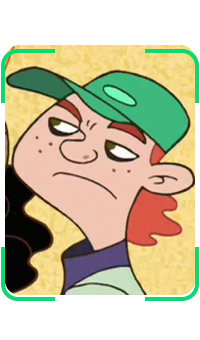 Ron Reiger
| | |
| --- | --- |
| Full Name: | Ronald Reiger |
| Alias(es): | No Known Aliases |
| Gender: | Male |
| Age: | Unknown |
| Build: | Average |
| Hair: | Red |
| Eyes: | Grey |
| Skin: | Fair and Freckled |
| Hometown: | Middleton |


Professional Info
Profession(s):
 
Student
Affiliation(s):
 
Middleton High School
Relationships
Relative(s):
 
No Known Relatives
Friend(s):
 
Jim and Tim Possible
Love Interest(s):
 
Bonnie Rockwaller
Pet(s):
 
No Known Pets
Nemesis:
 
No Known Nemesis
Behind the Scenes
First Appearance:
 
"Gorilla Fist"
Voiced by:
 
James Arnold Taylor
Ronald "Ron" Reiger is a rarely seen Middleton High School student. He is perhaps best known for regularly skipping gym class, and due to their same first name is occasionally confused with Ron Stoppable.[1] Out of the frustration caused by this, Kim insisted on referring to him solely as "Reiger", instead calling her boyfriend "my Ron" while the three were together.[2]
Physicality
Appearance
Personality
Abilities
Ron Reiger had considerable technological talent, in that he created an electronic voting system that won him second place in the Tri-City Science Fair[3], and was able to further improve a Lorwardian weapon modified by Jim and Tim Possible.[4]
Biography
Ron Reiger was first introduced in Kim's Junior year, when a so-called "Gravy Ghost" was haunting the school cafeteria. The ghost spelled out the name "Ron" on the wall in gravy. Ron Stoppable hoped that it was referring to Reiger, but was quickly proven incorrect when his own last name was added.[1]
Reiger's next appearance was in Senior year at homecoming, where his electronic voting system was used to elect the king and queen via secret ballot. Although Ron Stoppable apparently won on his own, Reiger manipulated the system so that Bonnie Rockwaller became queen.[3]
At his class graduation, Reiger graduated just before Bonnie, who shoved him off the stage in her hurry to get her diploma. During the after graduation party, Reiger, together with Jim and Tim Possible, "accidentally" destroyed Mr. Barkin's van in the parking lot. [4]
Relationships
Family
Friends
Jim and Tim Possible
Main article: Jim and Tim Possible
Though at first annoyed by the fact that they accidentally destroyed his cap, Ron Reiger seemed to bond quickly with the Possible twins over a shared interest in tinkering and inventing. With his help, they managed to "improve" a Lorwardian death ray, which quickly destroyed Mr. Barkin's new car and earned them his wrath.[4]
Love Interest
Bonnie Rockwaller
Main article: Bonnie Rockwaller
Ron Reiger was clearly attracted to Bonnie, who used this to manipulate him. Presumably, she convinced him to rig the homecoming secret ballot so that she would become queen, in exchange for either her phone number or a date.[3] Given Bonnie's typical nature, Reiger's unpopularity, and her later treatment of him[4], it seemed unlikely that she kept her end of the deal.
Enemies
Paraphernalia
Clothes
Equipment
Quotes
Gallery
Trivia
Alternate Versions
Behind the Scenes
Voice Actor/Actress
Ron is voiced by James Arnold Taylor.
Episode Appearances
Season 3
Production
Number
US Broadcast
Number
Episode
312
64
Gorilla Fist
References
Community content is available under
CC-BY-SA
unless otherwise noted.