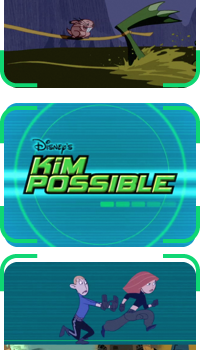 Ron the Man
| | |
| --- | --- |
| Production Number: | 120 |
| Season: | 1 |
| Executive Producer(s): | Unknown |
| Writer(s): | Unknown |
| Art Director(s): | Unknown |
| Dialogue Director(s): | Unknown |
Broadcast Information
US Broadcast Number:
20
Disney Channel US Premiere:
April 25, 2003
Toon Disney Premiere:
April, 2005
Merchandise
DVD Releases:
Kim Possible: The Complete First Season
iTunes Releases:
Unknown
Characters (in order of appearance)
Plot Summary
Mission
Personal Storyline
Quotes
Transcript
Main article: Ron the Man/Transcript
Memorable Quotes
Gallery
Team Possible's Clothes
Kim
Ron
Misc Images From Episode
Supplementary Information
Middleton High School Reader Board
Get Well Soon Ms. Jenkins
Team Possible's Transportation
Allusions
Trivia
Errors
Behind the Scenes
Cast & Crew
Executive Producers
Story Editor
Writers
Art Director
Line Producer
Storyboard Supervisor
Voice Talent
Dialogue Directors
Voice Casting
Storyboard
Timing Directors
Lead Character Design
Character Design
Character Clean-Up
Location Design
Prop Design
Background Paint
Color Stylists
Main Title Design By
Production Manager
Overseas Animation Supervisor
Technical Director
Storyboard Revisions
Continuity Coordinator
BG Key Color Correction
Animation Production by
Film Editor
Assistant Film Editor
Pre-Production Track Editor
Animatic Editor
Scanners
Track Reading
Supervising Sound Editor
Sound Editor
Foley Mixer
Foley Artist
Re-Recording Mixers
On-line Editor
Original Dialogue Recording
Assistant Dialogue Engineer
Manager of Music Production
Post Production Manager
Post Production Supervisor
Audio Supervisor
Post Production Coordinator
Production Coordinators
Production Associate
Production Secretary
Production Control
Casting Manager
Script Coordinator
Produced by

Walt Disney Television Animation
Music
Score by
"Call Me, Beep Me! The Kim Possible Song"

Written and Produced by

Cory Lerios
George Gabriel

Performed by
References
External links
Merchandise
This article is a rough draft.
The proper Manual of Style layout and sections are located above this tag, but the old information which is not in compliance with the Manual of Style is located below.
You can help Kim Possible Wiki by editing the page to bring it more into line with the Manual of Style.
Once all information has been moved from below this tag, please delete the tag and remove the article from the rough draft category.
After learning his bar mitzvah certificate was never signed, Ron sets out to prove he's a man with the help of muscle enhancing technology. Dr. Drakken tries to steal an invention that Professor Dementor stole first.
Mission Briefing
Episode Description
Transcript
Main article: Ron the Man/Transcript
Running Gags
Middleton High School readerboard
Get Well Soon Ms. Jenkins
"Welcome Back Ms. Jenkins"
Memorable Quotes
Barkin: Alright, listen up. I regret to inform you that Ms. Jenkins made a mistake many first-year teachers make. She ate the cafeteria meatloaf.
(the entire class gasps in horror)
Barkin: Now, until she's out of intensive care, I'll be covering her class. So, let's begin with a pop quiz.
---
Barkin: Stoppable, the ideal man is big and/or strong. You are neither.
Ron: I get by.
Barkin: You get rescued by a girl.
Ron: Sometimes.
Barkin: Frequently.
---
Dementor: (answering machine message) I can't take your call right now.
Drakken: (annoyed) Urch, the machine.
Dementor: I've taken my entire staff and my newly-acquired (shouting maniacally) Pan-Dimensional Vortex Inducer! (normal voice) And we're off to Las Vegas. Leave a message at the tone.
Drakken: Dah! (throws down the phone) He's so brazen!
Notes
20th episode in chronological order.
While Ron and Kim are waiting in Jack Hench's lobby, an elevator music version of "Call Me, Beep Me" is playing in the background.
Production Information
Errors
Continuity
This is the first time Kim and Ron have any contact with Jack Hench.
Allusions
The towel boy at the Las Vegas Las Vegas Resort looks exactly like a skinny, muscle-less version of Señor Senior Junior, down to the matching hairstyle and same color shirt.
Gallery
Cast
Full Credits
Main article: Ron the Man/Full Credits
External links