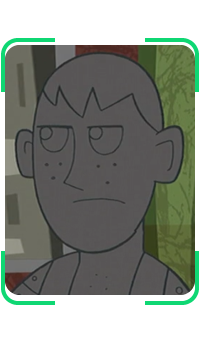 Ronacus
| | |
| --- | --- |
| Full Name: | Unknown |
| Alias(es): | No Known Aliases |
| Gender: | Male |
| Age: | Unknown |
| Build: | Well toned |
| Hair: | Unknown |
| Eyes: | Unknown |
| Skin: | Unknown |
| Hometown: | Roman Empire |


Professional Info
Profession(s):
 
Gladiator (Roman)
Affiliation(s):
 
No Known Affiliations
Relationships
Relative(s):
 
No Known Relatives
Friend(s):
 
Mysterious Masked Warrior
Love Interest(s):
 
No Known Love Interests
Pet(s):
 
No Known Pets
Nemesis:
 
Dracus Maximus
Behind the Scenes
First Appearance:
 
"Rewriting History"
Voiced by:
 
N.A.
Ronacus was a famous gladiator whose statue was seen by Kim and Ron when they were on a school field trip to the Tri-City History Museum.
Physicality
Appearance
The statue of Ronacus appeared to be of a person of average height with a well toned physique, but not muscular.
Personality
Extrapolating from the information presented by the museum curator Ronacus most likely was a good person, since he opposed the "evil" Dracus Maximus and his quest to conquer.
Abilities
As a gladiator armed with a sword it is likely that Ronacus was both a competent swordsman and had a high level of physical strength.
Biography
Ronacus lived in or around the Roman Empire and fought against Dracus Maximus, supposedly Dr. Drakken's Roman ancestor, alongside the female Mysterious Masked Warrior, who was supposedly Kim's ancestor.[1]
Relationships
It was implied that Ronacus was probably an ancestor of Ron Stoppable's, seeing as how he looked like Ron.
Friends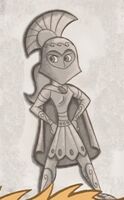 It was said that Ronacus fought alongside the Mysterious Masked Warrior, and that she was the true key to his many victories.
Enemies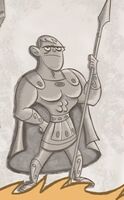 Ronacus opposed Dracus Maximus' attempt(s) to conquer, thus it is most likely that they were enemies.
Paraphernalia
Equipment
Ronacus is shown wearing a version of Roman armor with a sword.
Gallery
Trivia
Ronacus' sword was much longer than a typical Roman soldier's sword. It is more akin to the length of a Celtic or Gaelic sword of the era, which may point to his serving/living in the northern parts of the Roman Empire in the 2nd or 3rd century AD.
Behind the Scenes
Voice Actor/Actress
Ronacus had no speaking parts.
Episode Appearances
References
Community content is available under
CC-BY-SA
unless otherwise noted.