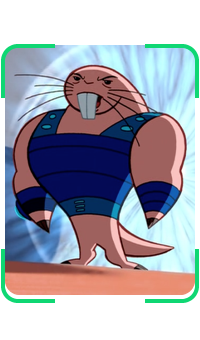 Rufus 3000
| | |
| --- | --- |
| Full Name: | Unknown |
| Alias(es): | No Known Aliases |
| Gender: | Male |
| Age: | Unknown |
| Build: | Rodent-like, Very Muscular |
| Hair: | None, except whiskers |
| Eyes: | Black |
| Skin: | Pink |
| Hometown: | Shegoton |


Professional Info
Profession(s):
 
Rebel
Affiliation(s):
 
Shegoton Resistance
Relationships
Relative(s):
 
Rufus (ancestor)
Friend(s):
 
No Known Friends
Love Interest(s):
 
No Known Love Interests
Pet(s):
 
No Known Pets
Nemesis:
 
Shego
Behind the Scenes
First Appearance:
 
"A Sitch in Time"
Voiced by:
 
Michael Dorn
Rufus 3000 is one of 3000 hyper-evolved naked molerats descended from the original Rufus, who he addresses as "Rufus Prime".
Appearance
Personality
Abilities
Biography
Rufus 3000 existed in the future timeline created when Shego stole the Tempus Simia idol and used it to take over the world, becoming known as the Supreme One. He and the other hyper-evolved naked molerats were active members of the Shegoton resistance force, dedicated to fighting against the Supreme One's tyrannical reign. In order to restore the timeline to its rightful state, Rufus 3000 used a chronal-manipulator to travel back in time and warn the modern-day Kim Possible of the danger that the Supreme One in possession of the Tempus Simia represented to the future. He gave Kim a chronal-manipulator and tasked her with preventing the modern-day Tempus Simia from falling into the Supreme One's hands, though he neglected to reveal the Supreme One's identity, having assumed that it would be fairly obvious to Kim.
Relationships
Family
Friends
Love Interest
Enemies
Paraphernalia
Clothes
Equipment
Quotes
From "A Sitch in Time"
Kim: Rufus?!
Rufus 3000: I am Rufus 3000. I have come for you from the future.
Kim: This just got so much weirder.
Gallery
Trivia
Alternate Versions
Behind the Scenes
Voice Actor/Actress
Rufus 3000 is voiced by Michael Dorn.
Episode Appearances
Season X
Production
Number
US Broadcast
Number
Episode
XXX
X
XXXX
References
This article is a rough draft.
The proper Manual of Style layout and sections are located above this tag, but the old information which is not in compliance with the Manual of Style is located below.
You can help Kim Possible Wiki by editing the page to bring it more into line with the Manual of Style.
Once all information has been moved from below this tag, please delete the tag and remove the article from the rough draft category.
Rufus 3000 is the designation for the leader genetic-modified carbon-copies of Rufus, first and only sighted in A Sitch in Time. Little is known of him other than his hardcore attitude and determination to restore the timeline to what it was supposed to be, a goal that was accomplished by Team Possible once he had given them the ability to time travel to pursuit He is also noted for making cookies. He is voiced by veteran Star Trek TNG actor Michael Dorn (Lt. Commander Worf)
History
Little is known of Rufus 3000, and with the destruction of the Tempus Simia, he never technically existed. What is known is that he was part of The Future's resistance forces against Shego. He was in charge of the Shegoton Resistance's naked mole rat division, based on his differing uniform from the others. He also
He is an orthograde, and can freely speak English as well as manage technical equipment and weaponry. It is unknown who created him and the other hyper-evolved naked mole rats but it's possible that it was based on DNAmy's work given she does not appear in the timeline. There were at minimal 3000 of these naked mole rats
Trivia
He is the only hyperevolved naked mole rat that is given any characterization, and wears blue instead (presumably an officer uniform). The other naked mole rats wear red.
Community content is available under
CC-BY-SA
unless otherwise noted.