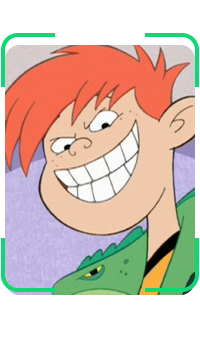 Shaun
| | |
| --- | --- |
| Full Name: | Unknown |
| Alias(es): | No Known Aliases |
| Gender: | Male |
| Age: | 7 |
| Build: | Scrawny |
| Hair: | Orange |
| Eyes: | Black |
| Skin: | Fair |
| Hometown: | Unknown |


Professional Info
Profession(s):
 
Unknown
Affiliation(s):
 
No Known Affiliations
Relationships
Relative(s):
 
Mr. Stoppable (uncle)
Mrs. Stoppable (aunt)
Ron Stoppable (cousin)
Hana Stoppable (cousin)
Reuben Stoppable(Cousin or brother)
Mrs Rueben Stoppable (In-Law)
Friend(s):
 
No Known Friends
Love Interest(s):
 
No Known Love Interests
Pet(s):
 
Iguana
Nemesis:
 
No Known Nemesis
Behind the Scenes
First Appearance:
 
"Bad Boy"
Voiced by:
 
Tara Strong
Shaun is a seven year old cousin of Ronald Stoppable. His last name is unknown.
Physicality
Appearance
Personality
Shaun was a notably mean-spirited little boy. He thoroughly enjoyed tormenting Ron and Rufus. Some of his past pranks included trashing Ron's scooter, pouring gravy down Ron's pants, and attempting to feed Rufus to his pet iguana.
Abilities
Biography
Shaun came to Middleton for the wedding of Reuben Stoppable and his bride. He was invited to stay in the Stoppable House by Ron's parents, and more specifically, in Ron's room. Exposed to Shaun for less than five minutes, Ron went next door to the Possible house to sleep on the couch in the den.
Just prior to wedding, Ron was turned evil by The Attitudinator, and arrived at the reception by crashing in on a monster ATV. Even then, Shaun was unafraid and hit him in the head with cake. In retaliation for years of pent up frustration and torment, the evil Ron transformed his ATV into a plasma catapult and attacked Shaun, as well as the entire reception.
However, even after Ron was returned to normal, he still used the Attitudinator on Shaun, which forced Shaun to become a polite, giving boy. It is unclear if this effect was ever reversed. Furthermore, based on the vague way in which the Attitudinator worked, it is equally unclear if it either drained the evil entirely out of Shaun, or only suppressed his evil by overwhelming him with good energy.
Relationships
Family
Ron feared and desperately wanted to escape being forced to spend any time with Shaun. Ron's own parents were unsympathetic because Shaun was younger than Ron.
Friends
Love Interest
Enemies
Paraphernalia
Clothes
Equipment
Quotes
Gallery
Trivia
Shaun was the first person who was altered by the Attitudinator, not returned to normal, and then never seen again, which called into question whether its impact was permanent. The same happened later on to the supervillain Electronique while she was being arrested, which caused her to promise to serve out her full sentence, with possible time off for good behavior.[1]
Alternate Versions
Behind the Scenes
Voice Actor/Actress
Shaun was voiced by Tara Strong.
Episode Appearances
Season 3
Production
Number
US Broadcast
Number
Episode
304
56
Bad Boy
References
Community content is available under
CC-BY-SA
unless otherwise noted.