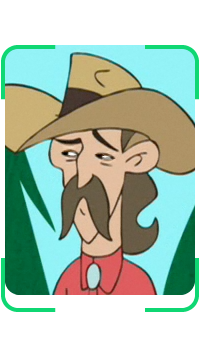 Slim Possible
| | |
| --- | --- |
| Full Name: | Unknown |
| Alias(es): | No Known Aliases |
| Gender: | Male |
| Age: | Unknown |
| Build: | Tall and Thin |
| Hair: | Brown |
| Eyes: | Black |
| Skin: | Unknown |
| Hometown: | Lazy C Ranch in Montana |


Professional Info
Profession(s):
 
Rancher
Scientist
Affiliation(s):
 
No Known Affiliations
Relationships
Relative(s):
 
Friend(s):
 
No Known Friends
Love Interest(s):
 
No Known Love Interests
Pet(s):
 
No Known Pets
Nemesis:
 
No Known Nemesis
Behind the Scenes
First Appearance:
 
"Showdown at the Crooked D"
Voiced by:
 
Kevin Michael Richardson
"Slim" Possible is the older brother of James Possible. Although a talented scientist and inventor like his brother, he prefers the quiet, solitary life of a rancher. He owns and operates the Lazy C Ranch in Montana, where he and his daughter Joss Possible live.
Physicality
Appearance
Personality
Humble to a fault he says his brother is the real genius in the family. Personality wise, Slim is modest, calm under pressure, and slow to anger. Despite being adept at using advanced technology, Slim seems to prefer the simple life, and to possess typical Montana values.
Abilities
Slim is an accomplished scientist and inventor. Among his creations are a series of cybertronic robot horses that are able to mimic the form and function of a real horse, and an advanced surveillance satellite capable of monitoring his ranch and the surrounding area.
Biography
Little is known about Slim Possible. He first made his first appearance in season 3, and was introduced when the Possible Family and Ron visited him during summer vacation.
During this time, Slim helped the other members of the Possible family in foiling a scheme by Dr. Drakken to transform the worlds geniuses into lackwits using brain wave altering cowboy hats.
As of the start of Season 4, Slim has not appeared again in the show, and has not been referenced by name. His picture was also notably absent from the family photo wall scene during the Season 3 finale, though his daughter's picture was displayed.
His last appearance was in "Graduation".
Relationships
Family
Joss has a great love for adventure and seems to resent her father's choice to raise her in such quiet, peaceful surroundings. As she puts it, "nothing ever happens 'round here". However, Slim encourages Joss to be herself, and is a fairly relaxed parent, especially when compared to how overprotective James tends to be of Kim.
Though Slim is somewhat isolated from James and his family, the two brothers are very close. Slim is especially fond of his sister-in-law Anne and his niece Kim, and tends to greet them with huge hugs that lift them off of their feet.
Friends
Love Interest
Enemies
Paraphernalia
Clothes
Equipment
Cybertronic robot horses
Surveillance satellite
Cowboy hat with mini-monoscope
Quotes
Gallery
Trivia
Slim's name is an allusion to the word "impossible". As of Season 4, he is the fifth and final character to use this pun; the others being, Jim, Tim, Kim and Miriam "Mim" Possible.
The episode in which Slim appears went straight to Video in the US before it was aired during Season 3.

Its production code indicates it is a Season 2 episode.
Alternate Versions
Behind the Scenes
Voice Actor/Actress
Episode Appearances
References
Community content is available under
CC-BY-SA
unless otherwise noted.