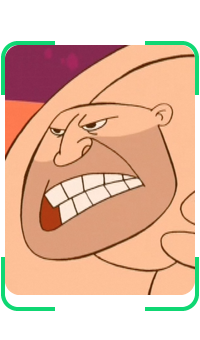 Steel Toe
| | |
| --- | --- |
| Full Name: | Unknown |
| Alias(es): | No Known Aliases |
| Gender: | Male |
| Age: | Unknown |
| Build: | Muscular and Thick |
| Hair: | None |
| Eyes: | Unknown |
| Skin: | Unknown |
| Hometown: | Unknown |


Professional Info
Profession(s):
 
Professional Wrestler
Affiliation(s):
 
Global Wrestling Association
Relationships
Relative(s):
 
Unnamed Wife and Kids
Friend(s):
 
No Known Friends
Love Interest(s):
 
No Known Love Interests
Pet(s):
 
No Known Pets
Nemesis:
 
No Known Nemesis
Behind the Scenes
First Appearance:
 
"Pain King vs. Cleopatra"
Voiced by:
 
Andrew "Test" Martin
Steel Toe is a popular professional wrestler that works for the Global Wrestling Association. He is best known for his on-screen rivalry with fellow wrestler Pain King.
Physicality
Appearance
Personality
Abilities
Biography
Relationships
Family
Steel Toe appeared to be a family man, as he mentioned plans to take his family on a vacation to a cottage at Martha's Vineyard.
Friends
Love Interest
Enemies
Paraphernalia
Clothes
Steel Toe wore a green single strap wrestling singlet, with the strap over his left shoulder.
Equipment
As part of his wrestling gimmick, Steel Toe's right foot was encased in a large, metallic, vaguely foot-shaped covering. Ron claimed this was likely not actual steel, and probably more like titanium.
Quotes
Gallery
Trivia
Alternate Versions
Behind the Scenes
Voice Actor/Actress
Steel Toe was voiced by professional wrestler Andrew "Test" Martin.
Episode Appearances
References
This article is a rough draft.
The proper Manual of Style layout and sections are located above this tag, but the old information which is not in compliance with the Manual of Style is located below.
You can help Kim Possible Wiki by editing the page to bring it more into line with the Manual of Style.
Once all information has been moved from below this tag, please delete the tag and remove the article from the rough draft category.
Ron Stoppable
and
Rufus
are huge fans of Steel Toe.
According to Jim and Tim Possible, Pain King never defeats Steel Toe. ("Pain King vs. Cleopatra")
Community content is available under
CC-BY-SA
unless otherwise noted.