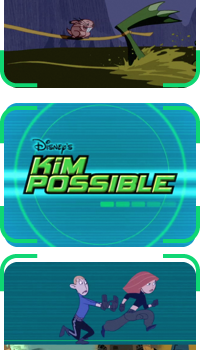 The Big Job
Production Number:
404
Season:
4
Executive Producer(s):
Bob Schooley
Mark McCorkle
Writer(s):
Kurt Weldon
Art Director(s):
Unknown
Dialogue Director(s):
Unknown
Broadcast Information
US Broadcast Number:
67
Disney Channel US Premiere:
February 10, 2007
Merchandise
iTunes Releases:
Unknown
After Kim becomes tired of coupon funded dates, she and Ron decide to get jobs. Meanwhile, Señor Senior Jr. and Shego go on a series of crimes to honor Señor Senior Sr.'s birthday in an attempt to perform the perfect crime
[1]
.
Characters (in order of appearance)
Plot Summary
Mission
Personal Storyline
Kim is frustrated with Ron's persistent use of coupons - to the point where he uses them to order off the children's menu at the fancy restaurant, Chez Couteaux, on one of their dates. Much to Kim's embarrassment[1].
Monique helps Kim get a job at Club Banana in the hopes of leading Ron to get a job by setting an example. Unfortunately, Ron isn't too quick to take the hint and when he does the right job doesn't come straight away[1].
Quotes
Transcript
Main article: The Big Job/Transcript
Memorable Quotes
Ron: (wondering where he can find a job) If only I could find one. (The camera zooms out and shows fifteen "now hiring" signs around him)
---
Monique: You know, Ron, if you had a job then you'd have…
Ron: Impossible hours?
Monique: No.
Ron: Mean bosses?
Monique: No!
Ron: On the job injuries?
Monique: (frustrated) Nooo! Money! You'd have mad money!
Ron: Oh, yeah… that reminds me, KP, can I borrow five bucks?
Kim: Why do you need cash? You have coupons!
---
Ron: Admit it, KP. The Ron man and his humble coupons came through when it counted.
Kim: Okay! So one came through in a pinch! (to herself) I still hate that coupon book!
---
Ron: KP! It's the zoo! They tried to feed me to the lions!
Kim: Are you sure you just didn't mess this up?
Ron: Well, I, ummmm…(babbles) I did skip orientation. And you know I brought my own raw meat from home… And maybe all the poking the lions with the stick was wrong… but no!
---
Gallery
Team Possible's Clothes
Kim
Ron
Misc Images From Episode
Supplementary Information
Middleton High School Reader Board
The Middleton High School Reader Board does not feature in this episode.
Team Possible's Transportation
Kim's car (San Francisco, Peru); Parasail (Senior's Island).
Allusions
The 5 richest people include references to Bill Gates and Oprah Winfrey.
Trivia
This is the episode when Kim begins her job at Club Banana and when Ron gets his job at Smarty Mart in the pet department. This remains consistent for the rest of the season, usually appearing simply as locations characters interact with, but it does become plot important in The Mentor of Our Discontent and Fashion Victim
The restaurant that Ron takes Kim to at the beginning and the end of the episode, is also the same restaurant in Stop Team Go, when Shego, Mr. Barkin, Kim, and Ron have their double date.
This is the first time Shego has threatened to kill someone for money, a tactic used by robbers, muggers, serial killers and terrorists.
When looking for something to steal, Junior goes through a list of items on the computer including the brainwashing shampoo from "Rappin' Drakken", the spinning tops of doom from "The New Ron" and possibly the Pan-Dimensional Vortex Inducer as seen in "Ron the Man" and "Dimension Twist".
In the end credits, Frugal Lucre suggests to Drakken that he should demand a ransom for the richest people in the world without kidnapping them - as Shego and Junior have just attempted[1] - or distribute evil robotic technology through fast food kiddie meals, as Drakken attempted at the end of Kim's Junior year[2].
The 69th episode in chronological order, the 69th episode in production order.
Errors
During the story we see that Kim already has a Car that Jim and Tim Possible have modified. In episode 70, Car Alarm, we see that Kim had just gotten her car. Presumably, this episode takes place chronologically after the episode.
When Ron is helping Monique at Club Banana he is stacking pants which are directly in front of him. He then turns his back to the pants to face Monique. A few frames later the pile of pants is rather high, and is suddenly halfway between them but in the background which is where they are when Rufus was on top of them, and they all fell to the floor.
The pants that Ron was stacking were green and the pants that appeared behind, but between Ron and Monique were more of a turquoise in color, with the other pants nowhere to be seen.
Behind the Scenes
Cast & Crew
Executive Producers
Story Editor
Writers
Art Director
Line Producer
Storyboard Supervisor
Voice Talent
Dialogue Directors
Voice Casting
Storyboard
Timing Directors
Lead Character Design
Character Design
Character Clean-Up
Location Design
Prop Design
Background Paint
Color Stylists
Main Title Design By
Production Manager
Overseas Animation Supervisor
Technical Director
Storyboard Revisions
Continuity Coordinator
BG Key Color Correction
Animation Production by
Film Editor
Assistant Film Editor
Pre-Production Track Editor
Animatic Editor
Scanners
Track Reading
Supervising Sound Editor
Sound Editor
Foley Mixer
Foley Artist
Re-Recording Mixers
On-line Editor
Original Dialogue Recording
Assistant Dialogue Engineer
Manager of Music Production
Post Production Manager
Post Production Supervisor
Audio Supervisor
Post Production Coordinator
Production Coordinators
Production Associate
Production Secretary
Production Control
Casting Manager
Script Coordinator
Produced by

Walt Disney Television Animation
Music
Score by
"Call Me, Beep Me! The Kim Possible Song"

Written and Produced by

Cory Lerios
George Gabriel

Performed by
References
External links
Merchandise