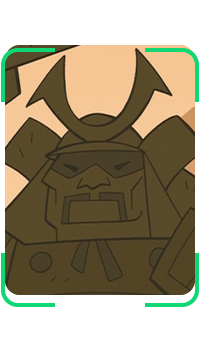 Toshimiru
| | |
| --- | --- |
| Full Name: | Unknown |
| Alias(es): | No Known Aliases |
| Gender: | Male |
| Age: | Unknown |
| Build: | Stout |
| Hair: | Presumably black |
| Eyes: | Unknown |
| Skin: | Unknown |
| Hometown: | Unknown |


Professional Info
Profession(s):
 
Samurai Warrior, Ninja, Monkey Kung Fu Master
Affiliation(s):
 
Yamanouchi Ninja School
Relationships
Relative(s):
 
No Known Relatives
Friend(s):
 
No Known Friends
Love Interest(s):
 
No Known Love Interests
Pet(s):
 
No Known Pets
Nemesis:
 
No Known Nemesis
Behind the Scenes
First Appearance:
 
Exchange
Voiced by:
 
Unvoiced
Toshimiru was the original master of Monkey Kung Fu, and had Mystical Monkey Power.
Toshimiru is the founder and creator of the Secret Yamanouchi Ninja School. He used the Lotus Blade in order to carve the school in the year 338 AD[1].
Physicality
Appearance
According to his statue, Toshimiru is sturdily built and dressed in traditional Samurai Warrior armour. He has a square face with prominent cheekbones, a moustache and slanted eyes.
Personality
Considering that Toshimiru is said to have carved the Yamanouchi Ninja School using a single blade it is likely that he was both hard-working and dedicated.
This is further reinforced by the fact that he was a Samurai, master of Monkey Kung Fu and the founder of the Yamanouchi school.
Abilities
Traditional Samurai Swordsmanship
Monkey Kung Fu
Mystical Monkey Powers
Carving
Biography
Little is known about Toshimiru other than what is revealed by his statue and the snippets of exposition provided about him in the episode in which his statue features. He lived in the fourth century AD and was a revered and highly skilled warrior. According to the armour he is wearing on the statue, he was a Samurai Warrior. It is said that he used the Lotus Blade to carve the Yamanouchi Ninja School.
Relationships
Enemies
Paraphernalia
Clothes
Equipment
Quotes
This character does not have any spoken roles.
Gallery
Trivia
'Toshimiru' does not appear to be a specific Japanese name, but a combination of two names. 'Toshi' and 'Miru'. Toshi (慧) is a common given male name, often used as a nickname for a longer name. Directly translated the kanji means 'intelligent' or 'bright'[2]. While Miru (見る) appears to mean 'to look'[3]. Thus Toshimiru's name could possibly, loosely mean something along the lines of 'To look intelligent'.
Behind the Scenes
Episode Appearances
Season 2
Production
Number
US Broadcast
Number
Episode
225
46
Exchange
References
↑ Wikipedia.org. Toshi (given name).https://en.wikipedia.org/wiki/Toshi_(given_name) (Accessed 20 September 2017)
↑ Ultra Handy Japanese Verb Conjugator. Conjugation table for Japanese verb miru - to look 見る http://www.japaneseverbconjugator.com/VerbDetails.asp?txtVerb=%E8%A6%8B%E3%82%8B (Accessed 20 September 2017.)