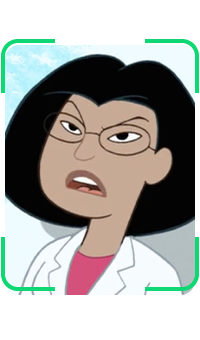 Wanda Wong
| | |
| --- | --- |
| Full Name: | Dr. Wanda Wong |
| Alias(es): | No Known Aliases |
| Gender: | Female |
| Age: | Unknown |
| Build: | Unknown |
| Hair: | Black |
| Eyes: | Black |
| Skin: | Olive |
| Hometown: | Middleton |


Professional Info
Profession(s):
 
Board Chairman, Middleton Space Center
Affiliation(s):
 
Middleton Space Center
Relationships
Relative(s):
 
No Known Relatives
Friend(s):
 
No Known Friends
Love Interest(s):
 
No Known Love Interests
Pet(s):
 
No Known Pets
Nemesis:
 
No Known Nemesis
Behind the Scenes
First Appearance:
 
"The Truth Hurts"
Voiced by:
 
-
Dr. Wanda Wong was Chairman of the Board of the Middleton Space Center, and one of Dr. James Possible's bosses.[1]
Physicality
Appearance
Personality
Dr. Wong was a confident and remarkably unflappable woman. Even when kidnapped, she remained completely calm and was greatly unimpressed by her captors.[1]
Abilities
According to Wade, Dr. Wong was one of the country's top scientific leaders. This was reinforced by her high-ranking position at the Middleton Space Center.[1]
Biography
Dr. Wong was captured by Dr. Drakken and Shego, and held prisoner in Drakken's ice fortress. He planned to use his Truth ray on her to force her to reveal top-secret projects to him. Team Possible saved Dr. Wong before this could happen.
Dr. Wong arrived late to the dinner that Dr. James Possible was holding at his home for the space center's board of directors. Kim Possible, having been hit by Drakken's truth ray, was forced to blurt out truths that only served to enrage the rest of the board. They doubted the ray's very existence and strongly implied that Dr. Possible would be fired because of the disastrous dinner. Dr. Wong overrode them, confirmed that the ray was real, thanked Kim for saving her, and assured Dr. Possible that he would receive a promotion.[1]
Relationships
Family
Friends
Dr. Wong was very grateful to Team Possible, and Kim Possible especially, for saving her from Dr. Drakken and Shego. She also appeared to be the only boss of Dr. James Possible that he actually liked.[1]
Enemies
Naturally, Dr. Wong considered both Dr. Drakken and Shego her enemies after they kidnapped her, but she was in no way frightened by them, despite the risk they posed to her career.[1]
Paraphernalia
Clothes
Equipment
Quotes
From "The Truth Hurts"
Drakken: Cold, Dr. Wong?
Wong: Why am I sitting on an ice cube?
Drakken: So you will divulge every detail of your top-secret projects, that's why.
Wong: You make no sense to me.
Gallery
Trivia
Alternate Versions
Behind the Scenes
Voice Actor/Actress
Episode Appearances
Season 2
Production
Number
US Broadcast
Number
Episode
231b
52b
The Truth Hurts
References