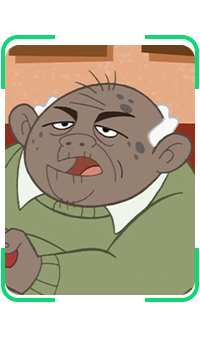 Wayne
| | |
| --- | --- |
| Full Name: | Unknown |
| Alias(es): | No Known Aliases |
| Gender: | Male |
| Age: | 110 (season 2) |
| Build: | Short, round and chubby |
| Hair: | Black |
| Eyes: | Black |
| Skin: | Dark Brown |
| Hometown: | Middleton |


Professional Info
Profession(s):
 
Retired, Former photographer
Affiliation(s):
 
No Known Affiliations
Relationships
Relative(s):
 
Wade's Mother (great niece)
Lontaine (great nephew)
Wade (great great nephew)
Friend(s):
 
Jon Stoppable
Mim Possible
Love Interest(s):
 
No Known Love Interests
Pet(s):
 
No Known Pets
Nemesis:
 
No Known Nemesis
Behind the Scenes
First Appearance:
 
"Rewriting History"
Voiced by:
 
John Witherspoon
Wayne is the great great granduncle to Wade.
Since Wayne's appearence in "Rewriting History" was in a dream it is debatable whether he was real or simply part of Kim and Ron's shared dream.
Appearance
Like all the other chacters at the fair, he shares his youthful appearance, traits and mannerisms as his descendant, which was a factor in the number of coincidences in the episode.
Personality
Biography
Wayne, still alive and kicking at age 110, was at the 1904 World's Fair as an amateur photographer experimenting with nighttime exposures. At ten years old, he was an eyewitness to the theft of the Electrostatic Illuminator and the fight between his friend Mim Possible and Ms. Go. It was Wayne's photo of Mim holding the case to the ESI that made her appear guilty, which haunted Wayne for 100 years.[1]
When the investigation about the stolen invention was reopened by Kim and Ron, they visited Wayne to ask him about what happened that night while Wade digitally enhanced the old photos, proving Mim was innocent. When Wade reenhaced the photos, it showed that the EMI was accidentally set to absorb static electricity for 100 years and was going to discharge that day, destroying the whole tri county.
Abilities
Photography
Wayne displayed some impressive skill in photography. At the age of ten he was experimenting with nighttime photography techniques.
Equipment
Relationships
Family
Wayne is Wade's great great uncle.
Friends
Wayne was friends with both Mim Possible and Jon Stoppable.
Quotes
Gallery
Trivia
Behind the Scenes
Voiced By
Wayne is voiced by John Witherspoon.
Episode Appearances
References