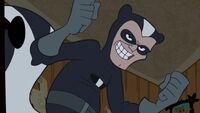 White Stripe
| | |
| --- | --- |
| Full Name: | Unknown |
| Alias(es): | No Known Aliases |
| Gender: | Male |
| Age: | Unknown |
| Build: | Unknown |
| Hair: | Black and grey |
| Eyes: | Black |
| Skin: | Unknown |
| Hometown: | Middleton |


Professional Info
Profession(s):
 
Super villain actor
Affiliation(s):
 
Fearless Ferret
Relationships
Relative(s):
 
No known relatives
Friend(s):
 
No Known Friends
Love Interest(s):
 
No Known Love Interests
Pet(s):
 
No Known Pets
Nemesis:
 
No Known Nemesis
Behind the Scenes
First Appearance:
 
"The Fearless Ferret"
Voiced by:
 
John C. McGinley
White Stripe is the arch nemesis of the Fearless Ferret[1] on the old classic television series of the same name.
The TV character is played by now-retired actor Rudolph Farnsworth.
Physical Appearance
White Strip w3ears an outfit which gives him an appearance resembling that of a skunk, which is perfect for rivaling a ferret.
History
Like Timothy North, Farnsworth was an actor in The Fearless Ferret. He portrayed the supervillain White Stripe and he also went delusional as North did when they believed the adventures of the Fearless Ferret were all real and they were the hero and villain their roles were. When Ron went as the Fearless Ferret, Farnsworth went back as White Stripe to destroy Ron. To destroy the reputation of the Fearless Ferret, White Stripe stole every stinky thing and put all the stench from it into a giant skunk balloon and pop to stink up the Fearless Ferret convention. He went back to normal in the end and joined North in the crowd of cheering fans in the convention.
Trivia
Notes
Behind the Scenes
Episode Appearances
References
Community content is available under
CC-BY-SA
unless otherwise noted.